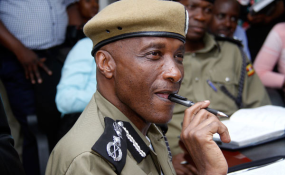 Photo: Daily Monitor
By Andrew Bagala
Kampala — Gen Kale Kayihura transferred 53 senior officers hours before his sacking yesterday.
In a messages sent on March 3, Gen Kayihura established a new task force for reserve police officer and appointed Assistant Inspector General of Police Ahmed Wafula, who has been working in his office, as the head of the Police Reserve Task Force.
He also appointed Senior Commissioner of Police Henry Tukahirwa as AIGP Wafula's deputy. SCP Tukahirwa has been the deputy director the directorate of Research and Planning. He has been replaced by SCP Jame Ocaya.
SCP Stephen Tanui has been appointed the operation officer in Reserve Task Force. SCP Tanui has been the deputy commander for Field Force Unit, a paramilitary unit in the police force. SCP Christopher Kasalawo, who has been undeployed, has bounced back to Field Force Unit as the commander.
He replaces SCP Ali Kaali Fadhir, who has been sent to the Directorate of Oil and Gas as the deputy director.
Gen Kayihura removed both deputy directors, SCP Richard Edyegu and SCP Anne Tusiime, in the directorate of Logistics and Engineering and transferred them to his office for "special assignments".
SCP Christine Nanding, who has been the head of the Land Protection Police Unit, has been transferred back to the Legal Directorate as the deputy director.
Commissioner Basil Mugisha, who hasn't been deployed for more than six months since he completed a senior command course, has been appointed the deputy director in the Directorate of Logistics and Engineering.
Commissioner Simon Kuteesa has been transferred to the Directorate of Human Rights and Legal Services.
Commissioner Fred Enanga and Assistant Commissioner of Police Polly Namaye, who have been in the Press Unit has been transferred to Police Commissariat. Commissioner Enanga will head Information and Publications Unit and deputised by ACP Namaye.