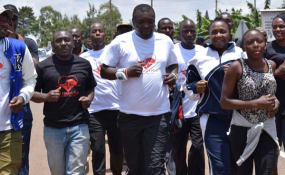 Photo: Isaac Wale/Daily Nation
By Derick Luvega
A newspaper journalist based in Vihiga has downed his pen, camera and notebook as he seeks to run for 40 days to raise funds for the construction of a Sh60 million cardiac unit in the county to boost the fight against non-communicable diseases such as hypertension and diabetes.
Mr Joseph Jamenya begun the run Monday at the Vihiga County Referral Hospital in Mbale and is expected in Nairobi on April 15, 2018 after covering a distance of about 400 kilometres.
Speaking during the launch of the funds drive officiated by Deputy Governor Patrick Saisi, Mr Jamenya said his urge was driven by the loss of his father who died on December 26, 2016 due to heart attack.
HEART ATTACK
"My father, Laban Jamenya, never showed signs of sickness. He just woke up in the morning and collapsed. We rushed him to hospital where he was pronounced dead on arrival. Post-mortem results showed he suffered a heart attack," said Mr Jamenya during the launch.
He went on: "Two months after the burial of my dad, my mother - Miriam Khareha - fell sick and was diagnosed with heart related ailment. I am running not for my parents but for many people who are faced with similar situations."
"These conditions [are affecting] many people (who) are suffering in silence. I am running for a reason - to seek for help on their behalf. That way we can help in setting up a cardiac unit in our referral hospital," he added.
Already, statistics show that at least 75 percent of patients seeking treatment in the rural county are battling heart-related non-communicable diseases.
The journalist said he will use the run to raise awareness on heart ailments amid alarming statistics.
STOPOVERS
His team comprises a trainer and physiotherapists and the run route will see him make stopovers in the counties of Kisumu, Kericho, Nakuru, Kiambu and finally Nairobi.
During the run, named 'JJ Heart Run' and themed 'Your Heart Your Life', Mr Jamenya will visit institutions to advance the sensitisation against the killer disease.
During the stopovers, Mr Jamenya and his team will interact with county health teams and leaderships of various counties along the run route.
"I will also visit army barracks and NYS centres along the way," said Mr Jamenya and went on: "I am optimistic that the 40 days on the road will help in raising the funds to save many lives that succumb to the non-communicable diseases that are heart-related."
He added: "Heart complications are becoming common and the treatment is expensive. I will run from here (Vihiga) to Nairobi for 40 days to raise funds and create awareness about cardiac complications."
APPEAL TO WELL-WISHERS
Well-wishers can contribute through Barclays Bank, Mbale branch, account number 2038982942 and M-Pesa pay bill number 446370.
Speaking at the launch, Dr Saisi, the Vihiga deputy governor, said the county's administration supports the initiative.
Dr Saisi also advised locals to engage in daily exercises and use vegetables as their daily diet as a way of fighting non-communicable diseases.
"People should avoid eating too much meat because too much of it leads to heart-related complications," said Dr Saisi.
He noted that the regional government has created a public health department and noted the health sector will help in fighting the killer diseases.
County Health executive, Dr Amos Kutwa, said the department is putting up a six-storey hospital plaza that will have 260 beds.
Dr Kutwa noted that one floor will be given out to the proposed centre.
"We also pledge to buy two ECG and eco machines for a start," said Dr Kutwa.
Vihiga County Referral Hospital medical superintendent, Dr Emmanuel Ayodi, said everyone is prone to heart attack and added that it does not discriminate on age.
"Statistics by the World Health Organisation show that by 2020, non-communicable diseases will have increased with the numbers rising over other diseases," said Dr Ayodi.