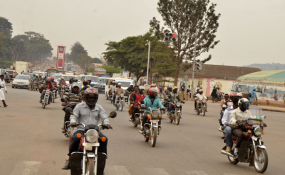 Photo: Alex Esagala/Daily Monitor
By Monitor Correspondent
Authorities in Kampala have impounded more than 700 boda bodas since January 2018 in a traffic police operation to clamp down on lawless riders.
Police say the operation targets riders that violate traffic rules and regulations around all the 18 divisions of Kampala Metropolitan Area.
"This comes after the condemnation of bad road users especially boda boda cyclists in the city by President Museveni while presiding over the National Resistance Movement (NRM) 32nd Liberation Day celebrations in Arua arguing they scare away foreign investors," says part of a police statement issued on Monday.
Kampala Metropolitan Traffic Police Commander, SSP Norman Musinga reaffirmed that more emphasis shall be put on major road junctions, roundabouts in Kampala where most cyclists lacking crash helmets, violating traffic lights, riding along pedestrian paths, carrying more than one passenger and riding while drunk shall be clamped down.
The violators of traffic rules have been issued with penalties while others taken to court for prosecution, according to police.
In January this year, President Museveni blamed boda boda riders for the indiscipline exhibited on roads saying it is reason for the low number of foreigners coming into the country.
Mr Museveni who was speaking at the 32nd Liberation day celebrations at Boma Hill Grounds in Arua said boda boda riders and taxi drivers who drive recklessly on Kampala roads give the country a bad reputation internationally.
"If you are in Kampala and you see how recklessly the boda boda riders and taxi drivers drive, you will undermine our efforts to bring more people to Uganda," Mr Museveni said then.
He added that he had heard some investors complaining about the recklessness on Kampala roads asking the police to insist on the proper road code.
Museveni also revealed that by 2017, the country was receiving about 1.5 million tourists who he says bring an income of approximately 1.5billion dollars.
"Don't drive on pavements, they are for pedestrians, if you maintain discipline may be then we can change the country's reputation and get more tourists coming here," Mr Museveni added.