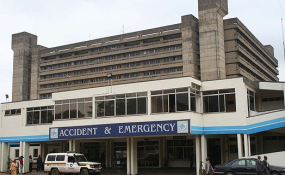 Photo: Nairobi News
By Elizabeth Merab
Doctors in post-graduate training, commonly referred to as registrars, have boycotted work at the country's two main referral hospitals until their issues are resolved.
Registrars working at the Kenyatta National Hospital (KNH) in Nairobi specifically demanded that the hospital reinstates their colleague who had been suspended over a surgery mix-up that sparked public outrage.
They claimed that by temporarily preventing their colleague from continuing with his duties at the hospital, he was being victimised.
The estimated 700 registrars on Monday said they would not resume work until the hospital resolves issues which have been partly blamed for the medical mishap.
The registrars held a meeting with officials of the Kenya Medical Practitioners, Pharmacists and Dentists Union on Monday morning.
'WITHDRAWN SERVICES'
"Doctors who are pursuing their training as post-graduate students have withdrawn the clinical services they offer to Kenyatta National Hospital and Moi Teaching and Referral Hospital (MTRH)," said Dr Ouma Oluga, secretary-general of the union.
The doctors said the resolution to withdraw services was also informed by the ongoing lecturers' strike which saw medical lecturers down their tools last week, demanding for their clinical services allowances.
Meanwhile, external investigators have been appointed to carry out a systems audit at Kenyatta National Hospital to get to the bottom of the incident that saw doctors perform brain surgery on the wrong patient.
The hospital board announced last evening that the auditors, PricewaterhouseCoopers, would be required to give an authoritative and comprehensive report about how such a grave mix-up was allowed to happen.