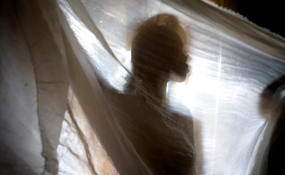 Photo: Siegfried Modola/IRIN
Safety, choice, abuse and human rights were some of the key themes debated in a summit in Parliament on the recent government-commissioned report recommending that sex work remain criminalised.
Parliament's multi-party women's caucus on Monday hosted a day-long summit to discuss the South African Law Reform Commission's (SALRC) 2017 report that recommended full criminalisation of sex work remain the law in the republic.
In May 2017, Justice and Correctional Services Minister Michael Masutha released the report which had argued that full criminalisation was still the commission's preferred choice in tackling the complex issue.
The option of "partial criminalisation", where only clients were penalised, was also considered but had its drawbacks, it argued.
Thirty-two speakers were lined up to discuss the arguments for and against criminalisation in the Old Assembly.
'Choice and agency'
Sonke Gender Justice's Kholi Buthelezi argued that the SALRC's report failed to provide the perspectives of sex workers.
As a result, it adopted norms and assumptions on behalf of a group of people who were not represented, and robbed them of their agency.
A legal representative from the Sex Workers' Education and Advocacy Taskforce (Sweat), Annelle du Toit, said the report's recommendation for criminalisation was based primarily on links to other social ills, such as human trafficking and drug abuse.
However, no substantive support for the links was shown in the report, she contended.
"We have no information on exactly how many people are actually arrested, how many people are involved."
Ultimately, the arguments for criminalisation were clouding the issue by automatically linking it to other social ills, rather than considering sex work for what it was on its own.
'Prostitution damaging regardless'
Primrose Residents Against Crime's Emilia Duarte-Potgieter argued that the very nature of sex work in itself brought about damaging effects to both the sex worker and the client.
Neither criminalisation nor decriminalisation would prevent the damage caused by the act or service.
Government should, therefore, be working to help sex workers who wanted to leave the industry, and give them the capacity to do so, she said.
NGO Hand4Hearts contended that based on international studies, prostitution was inter-woven with various criminal activities in the legal environment where it flourished.
Sex trafficking and prostitution could not be separated, the organisation said.
'Prostitution' v 'sex work'
A representative from the Centre for Applied Legal Studies said the very use of the term "prostitution" showed inherent biases and discrimination against sex workers.
"This has a link to our moralising attitudes about sex and about women having sex. By deciding things on behalf of sex workers, we are treating women as children."
The term sex work should rather be used, and those engaged in it should be allowed to choose, they said.
The Commission for Gender Equality argued that legislators should err on the side of human rights in the case of sex workers.
The rights to earn a living, choose an occupation and not be demonised through prosecution and criminal stigma should be upheld.
Amnesty International also said sex workers should be given the capacity to make decisions for themselves.
Sweat argued that the decriminalisation of sex work would improve conditions at brothels. Workers could set industry standards and normalise relations between employee or employers.
'Foreign nationals won't be protected'
This was supported by another NGO, LoveJustice, which had argued that the link with prostitution was "undeniable", as it found in the 250 cases of human trafficking it identified on its own in the Gauteng region.
LoveJustice's Kirsten Horby also argued that decriminalisation would not protect the vast majority of foreign nationals working illegally as sex workers, and would not stop abusive relationships at brothels.
"Clients by nature do not want to be known in this industry, and creating regulations will create unforeseen burdens, especially when it comes to foreign nationals."
Crystal Clear Ministries told Parliament that South Africa should be working on its exit strategies for women who wanted to leave the industry, rather than make it easier for sex workers to remain.
Partial decriminalisation?
NGO Embrace Dignity, however, said that those supporting criminalisation had not provided any arguments for how criminalisation was working.
Criminalisation had not stopped the continued abuse of sex workers and had not quelled demand from clients.
Partial decriminalisation of the law was what they wanted, as seen in the "French model", where more than 1 000 men have been arrested since the law was passed in 2016.
Sweat, however, argued that partial decriminalisation would only push sex workers further into the background. It would make it harder to get medical help, and still make sex workers the first point of contact for arresting a client.
At the time of the report's publishing in May, Masutha said South Africa still did not have a clear strategy to deal with the complexities of adult prostitution.
The multi-party women's caucus has not taken a stance on the report.
The public hearings were aimed at gaining input into the issue before adopting a stance, to be taken to the National Assembly for consideration.
Source: News24