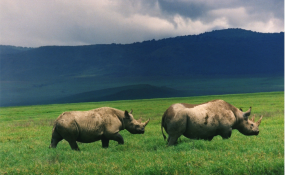 Photo: Daily News
Frankfurt Zoological Society is currently implementing a project at the Selous Game Reserve to restore both rhinos and elephants.
Frankfurt Zoological Society (FZS) project leader, Ms Kathryn Doody told The Citizen that the project started in September last year and was being supported by WWF and implemented by Tanzania Wildlife Research Institute (Tawiri).
"We are helping the government to protect the animals," she said, adding that the project has not yet been officially finalized.
According to the Selous Ecosystem Conservation and Development Program (Secad) report, in 2014, the Selous Game Reserve was inscribed on the list of endangered World Heritage sites because widespread poaching had caused dramatic decline in wildlife population especially elephants and rhinos.
In view of this, she said efforts were being undertaken to halt the degradation and restore the desired state of conservation including implementation of the Secad program which has the support of the German government and financed by implementing partners including WWF and FZS.
The report further highlights that as a Secad implementing partner, FZS will strengthen Selous Game Reserve management through review and updating of the general management and financial plan. It will further develop implementation of management instruments; support and advice on law enforcement through aerial surveillance and improving the communication system and ranger training capacity building programs. FZS has been supporting the protection of the Selous since 1980s.