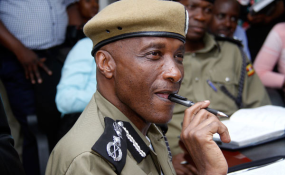 Photo: Daily Monitor
opinion
By Ssemujju Ibrahim Nganda
At least 400 vehicles, mainly trucks carrying merchandise, cross from Uganda into Rwanda through the Katuna border in Kabale district every day.
These include 40 buses carrying passengers, 70 small vehicles and the rest are heavy trucks. This means at least 8,700 trucks cross into Rwanda using the Katuna/Gatuna border every month.
Knowing our level of industrialization, the biggest percentage of merchandize these trucks are carrying is from outside Africa, just transiting through Kenya and Uganda. A small percentage is what Uganda and Kenya are producing and selling to neighbouring Rwanda.
Small as it is, the goods Uganda is selling to Rwanda generate $160 million (about Shs 570 billion) annually, according to Uganda Revenue Authority (URA) customs officials at the border post.
Despite this volume of trade and passengers, our revolutionary government has stubbornly failed to raise Shs 25 billion to complete construction of an office block meant to process this traffic.
We are also supposed to tarmack the half-kilometer stretch between our side of the border and Rwanda's. The rest of the road from Kabale to Katuna town council was recently paved using money borrowed from the European Union.
The office block (freight house) Uganda is constructing at the border has been abandoned for a year now because of lack of funds. URA and other border officials are operating in makeshift structures and containers.
Trucks waiting to be cleared to cross into Rwanda are parked along the road because money to construct a parking yard is part of the Shs 25 billion that we don't have.
That is the chaotic scene we (members of the public accounts committee of parliament), met on Monday during a field inspection trip to our Rwanda border crossings.
This state of affairs generated anger even from NRM MPs who are beneficiaries of Uganda's mismanagement. One of them kept blaming his government for getting priorities wrong. And he is right.
Before travelling to Kiboga last week to celebrate the removal of presidential age limits from our Constitution, each of the 317 NRM MPs who voted yes was given Shs 60 million, totaling to Shs 19 billion.
The newly-acquired Police Training Institute at Bwebajja was the distribution centre. Because of the nature of the operation (distribution of money), the gate was manned by Special Forces Command (SFC).
Each MP was advised to carry a bag in which their loot was stuffed. The NRM chief whip, Ruth Nankabirwa, was at this place up to past midnight overseeing distribution of this money.
She eventually got tired and assigned her deputy, Bukooli Central MP Solomon Silwany, to take over. Controversial Busia Municipality MP Geoffrey Macho who voted 'No' to the 'age limit' bill during the first stage and voted 'Yes' in the final stage was chased from Bwebajja by Silwany. He was not entitled.
I hope you remember that NRM MPs, and some of our colleagues in the opposition, were given Shs 40 million each in December to pass this bill. Opposition MPs were given money not to walk out.
So, the Museveni government has spent over Shs 50 billion bribing MPs but we don't have money to complete construction of a border post that processes goods worth $160 million a year!
For me, it is these issues that we must discuss, and not the sacking of General Kale Kayihura or Security minister Henry Tumukunde.
In fact, the duo's biggest crime is not the much publicized wrangling. It is the violation of rights each of them has orchestrated during their tenures. More than 200 people have been murdered by police in concert with the military during the 13-year reign of Kayihura. You remember the Kayunga riots and walk-to-work massacres?
That, for me, is the debt that we must ask Kayihura to repay. Concentrating on his quarrels with Tumukunde is to accept to be diverted. Tumukunde is also yet to account for the torture and some deaths that occurred when he was the Chief of Military Intelligence.
I have a strong feeling that the centre can no longer hold. I don't think ordinary soldiers and policemen providing security to NRM MPs as they shared billions of money go home happy after witnessing this robbery.
Yes, the 317 MPs are now historicals, according to Museveni, because they removed age limits from the Constitution so he can die in office; but what about the young men and women who beat up opposition MPs and intimidate the population every day to keep the big man in power?
How do these soldiers and policemen feel when they hear that each NRM MP has so far officially received Shs 129 million and will be given another Shs 100 million in the last quarter of the current budget?
Yes, they will each receive Shs 100 million when Keith Muhakanizi releases money for the last quarter (April-June) of 2017/18 financial year.
For me, the sharing of this stolen money is what is fuelling this wave of insecurity. Certainly the Tumukundes were not happy that Kayihura was controlling big sums of money. But ordinary policemen and soldiers are also not happy with their selfish bosses who are only serving themselves. Things can only get worse!
The author is Kira Municipality MP and opposition chief whip in parliament.