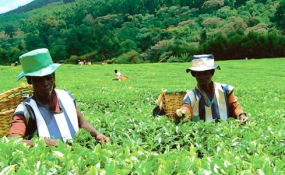 Photo: Daily Nation
By Denis Kongere
Recently, East Africa's IGAD Climate Predictions and Application Centre (ICPAC) mooted the possibility of a weak La Nina weather pattern across the Horn of Africa. This could mean continued poor rainfall across Kenya, Somalia and Ethiopia, with the region facing its fifth consecutive period of failed rains in five years.
Currently, 14 million people in the region are food insecure and further drought will push them on a pathway to hunger and famine, problems these countries have been fighting for decades. Women and children are most affected and continue to be exposed to perpetual hunger and poverty.
Drought is the most damaging and least understood weather phenomenon. This, coupled with growing difficulty in predicting the weather, only worsens the situation.
But timely and reliable data and information must be the cornerstone of any effective drought policies and community-driven action plans, to develop effective early warning systems and build resilience.
It is therefore imperative that we re-examine the current focus on humanitarian response over long-term solutions, and investment more in early warning systems for long-term solutions to the current drought crisis.
In 2017, the Horn of Africa countries - Kenya, Somalia and Ethiopia - appealed for close to $1.9 billion from donors for the drought response. Millions of people are in dire need of more support this year.
Since countries in the region continue to depend on donors and donor aid, the level of preparedness and response has been lacking as countries wait for another drought to turn into an emergency. How much is invested in preparedness over response and how adequate are they at tackling the root causes of drought crises?
APPEAL AFTER APPEAL
Although famine was averted across the region in 2017, drought-affected communities are becoming less and less resilient and more vulnerable to hunger.
Many communities hoped for a hunger free 2018. Disappointingly, this has not been the case. The skies are crystal clear, the rains are not here, and Kenya, Somalia and Ethiopia have begun appealing for aid to help 15.8 million people in need.
We are faced with a long-term hunger crisis which may last for decades to come. The fundamental question then remains: How can we better invest in effective early warning systems in order to avert another crisis and restore the dignity of communities affected?
EARLY WARNING
Famine was averted in Somalia last year because donors, humanitarian agencies and governments not only invested in an efficient and effective early warning system but responded in time to the early warning alerts.
This was a departure from previous drought crises when early responses were delayed because of various political factors.
Early warning systems only become effective when they are translated into early action. Governments, donors and humanitarian agencies must learn from this principle and best practise to develop policies, inject political will and prioritize their resources and time in effective and robust early warning systems. This includes investment in modern technologies, financing community-led contingency plans to respond to climate induced hazards such as drought.
Communities are hungry not only for food, but also for timely information and modern skills on how they can prepare themselves for the changing harsh climatic conditions.
Reliance on indigenous early warning systems such as reading the intestines of a goat, looking at the stars and trees can no longer hold. People must be connected to official scientific early warning systems.
Existing early warning systems are designed for and used to raise the alarm for the ultimate response, when drought has turned into a catastrophe.
We must deviate from this risky path and develop systems that address the root causes of drought crises, and place communities on the path of early preparedness, planning and resilience.
The author is regional drought policy and campaign manager for the Horn of Africa, Oxfam International