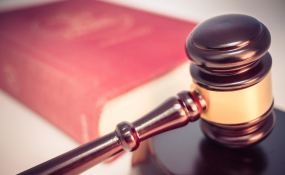 Photo: Blogtreprenuer/Flickr
It was all smiles and wide eyes when a couple with suspected links to terror group ISIS greeted each other in the Verulam Magistrate's Court on Tuesday.
Sayfydeen Aslam Del Vecchio, 38, and Fatima Patel, 27, held hands when Magistrate Valaramen Kathravaloo brought court into session.
Between court proceedings, Patel would sit in the dock with her head leaning on Del Vecchio, who listened intently and responded gently as she whispered into his ear.
The duo, through Advocate Jay Naidoo, abandoned their bail application and chose to remain in court, seated next to each other as their co-accused, 19-year-old Themba Xulu, battled for bail.
"They will not proceed with bail application. We indefinitely postpone any application," he said.
Del Vecchio and Patel face charges of contravening the Protection of Constitutional Democracy against Terrorist and Related Activities Act.
No bail for co-accused
Rod and Rachel Saunders, who have both South African and British citizenship, were allegedly kidnapped at or near the Bivane Dam in Vryheid, KwaZulu-Natal, on February 12.
Xulu is accused of robbery, after being found with the couple's cellphone in his possession.
It is understood that the Saunders, who run a Cape Town-based seed company, had been in search of a rare flowering plant.
Xulu's legal aid attorney Mondli Mthethwa tried to argue for his client to be released on Tuesday, but due to time constraints Kathravaloo reserved judgment until March 22.
Mthethwa tried in vain for more than an hour to use a number of different arguments, including Xulu's age, so he could get bail, but he was easily bested by Advocate Adele Barnard, for the State.
"There are many other young people awaiting trial. His circumstance is no exception," she said.
In an affidavit opposing bail, investigating officer detective Warrant Officer Anuresh Lutchman painted a sinister picture of Del Vecchio, presenting evidence of a seasoned international traveller with links to other countries.
International headlines
He described correspondence between Del Vecchio and another person: "[In January] he said he has brothers in Russia that do good work. This clearly indicates that the accused has links in other countries that could assist [him] to abscond."
Lutchman also submitted evidence found at the couple's hideaway in Mtunzini, where a how-to instruction booklet on making various types of bombs was recovered.
He showed that police also recovered ISIS painting, imagery and reading materials.
Lutchman's affidavit also showed that several items were purchased using the Saunders' bank card. These were seized at the home of Del Vecchio and Patel.
The alleged kidnapping made news headlines in the UK, with several publications reporting that it is feared the couple have been kidnapped by members of ISIS.
Shortly after the kidnapping, the UK High Commission sent out an advisory warning of terror dangers in South Africa.
The South African government has since written to the UK High Commission, requesting that it review its travel advisory.
Source: News24