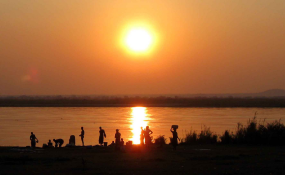 Photo: Erik Cleves Kristensen
By Lugeretzia Kooper
The Ministry of Fisheries and Marine Resources has confiscated 191,05 kilogrammes of fresh fish and three bags of dry fish estimated to be 50 kilogrammes during the closing season in the Zambezi region.
The closing season is an annual period from 1 December to 28 February that allows fish stock to recover, especially breeding fish and nursing fish on the floodplains and the river system in the Zambezi, Chobe and Quando rivers.
The ministry's spokesperson, Dewet Siluka, yesterday noted that they have issued 11 fines to those who were found in possession of fish during the closing season amounting to N$8 800.
"We could have achieved more if our working hours were not a restriction. Most of the illegal fishing was happening early in the morning, or late in the evening. Out of the 191,05 kilogrammes of fresh fish which were confiscated, 117,05 kilogrammes were destroyed by burning after they were condemned by a health inspector from the health ministry. Dry fish weighing 16 kilogrammes is being kept in storage, while 330 fresh catfish weighing an estimated 1,5 tonnes were donated to the Waya-Waya San community on the same day that it was confiscated due to a lack of cold storage facilities," he explained.
Siluka said 51 land patrols were conducted in the areas where fishing activities were suspected, such as Kalumba, Gunkwe, Lusese, Kasaya, Manyonga, Chisambilo, Mutwalwizi, Kasuzu and Lake Liambezi, Kongola, Mutwi Masikili Ngoma, Muyako, Ihaha, and Maningimanzi in the Zambezi region, covering a distance of 7 051 kilometres.
According to Siluka, the recent research which the ministry carried out indicates that the current closed season only protects nursing fish on the floodplains and not breeding fish, as very few species actually breed on the flood plains.
"Breeding of the economically important tilapia species takes place from October to December, mostly in the mainstream of the river, which is in the breeding areas behind sand banks and other suitable habitats when the water temperature reaches 23-28 degree Celsius. Unfortunately, this is also the period when the river is very shallow, and it is very easy for fishers using illegal dragnetting methods to totally annihilate breeding schools of tilapia during this time," he stressed.
Illegal fishers use long mono and multi-filament nets, which leads to carnage of the fish population.
Siluka thus appealed to fishermen to abide by the law (Inland Fisheries Resource Act), and not to engage in illegal fishing activities like dragnetting as these nets have destroyed the sensitive fishery and the entire aquatic ecosystem in the Zambezi River, and also affected the ecosystem in the region.
"It caused a shift in species' composition, and had a major impact on bird life. Bird counts in the Zambezi and Okavango river systems indicate a rapid decline in recent years. There is no more food (fish) for crocodiles, and an increase in crocodile human/animal conflict can be expected. We need everybody to take this matter very seriously in order to protect our scarce resources and natural heritage for future generations," he continued.