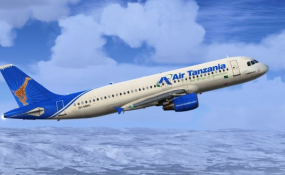 Photo: Daily News
AIR Tanzania Company Limited (ATCL) yesterday said there is no single foreign pilot who has been hired to fly its aircraft.
The statement released by the company's Executive Director, Eng Ladislaus Matindi in response to the information published recently in one of the weekly tabloids showed that all information published were not true.
Eng Matindi said the tabloid published false information that the company was segregating against local pilots and giving priority to foreign pilots. He said that so far there is no single pilot from abroad.
He said all pilots were being paid in local currency, adding that in 2016, the company had 13 pilots while the needs for three aircraft were 30 pilots. "We advertised the posts two times, but we did not get experienced Tanzanian pilots on the grounds that we were paying little, this forced us to continue with our few pilots who served the company patriotically," he said.
He added that the company continued to offer trainings to pilots and the company is continuing with its training programme by sending pilots to other airline companies such as Ethiopia.
However, the ATCL boss added that the company may need foreign pilots basing on the needs. He said such practice is normal in many countries including Ethiopia, Rwanda, Kenya and many others. On favouring some officials who lack qualifications to lead departments, Eng Matindi said such claims were not true. He said ATCL is doing everything to revive its full business and stand on its own.
He said in doing so there is need to hire or appoint leaders who are capable to supervise and run their departments' businesses. "We have made changes in various departments by considering ability, performance and competency," he said in a statement. He added that when it happens that a person who has been appointed to a certain position fails to fit into the office, he/she is removed immediately.
The ATCL boss added that the tabloid also accused the company of merging the maintenance, engineering and operations departments. He said the TCCA regulations explain clearly on when such departments could be merged and operate under one director.
He said ATCL decided to merge the two departments into one because the company was operating only two aircraft, therefore, it is acceptable to merge the two departments, which are currently under the supervision of strong and competent managers. The tabloid also added that one pilot is in the US on special training and that he is paying all costs for himself.
Eng Matindi said all trainings that are taking place in the US are within the contract with American based company that sold the aircraft to the government. "So far, there are two pilots in the US who are training on Boeing 787," he said