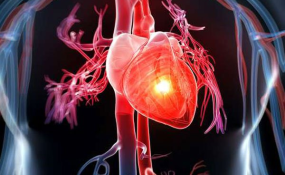 Photo: Daily Nation
column
By James Nkurunziza
CARDIOVASCULAR disease is one of the leading causes of death in the developed world.
However, this is becoming a significant contributing factor in many developing countries, accounting for 34% of deaths, many sudden, and almost all of them premature. Although not comprehensive, the following are 'top-10 tips' to prevent cardiovascular diseases (heart attacks, strokes, gangrene of legs, etc).
1. Take responsibility for your health
The best prevention is to understand the risks and treatment options. The greatest risk is ignorance or misinformation. The first step is to take responsibility for your health, and staying informed.
2. Know your risks
The older you become, i.e, >55 years old for males and >65 years old for females, you are at increased risk for developing cardiovascular diseases. The other important thing to be aware of is whether these diseases run in your family. We have long known that if your parents, grandparents or other close relatives were afflicted with or died of heart disease, diabetes or stroke, your risk is much greater.
3. Do not smoke or expose yourself to second-hand smoke
Evidence is overwhelming that cigarette smoking and second-hand exposure to smoke increases the risk of heart disease, lung disease, peripheral vascular disease and stroke.
4. Maintain a healthy blood pressure
High blood pressure, or hypertension, is known as "the silent killer", as most individuals have no symptoms. This will predispose you to heart attack, heart failure, stroke, chronic kidney disease, peripheral vascular diseases, eye diseases, etc. Ideal blood pressure should be kept at and below 120/80 mmHg. Please ensure that you know what your blood pressure is.
5. Monitor your cholesterol (blood lipids)
Abnormal or high blood lipids (fats) are a major contributor to cardiovascular disease. Some people have genetic predisposition to high cholesterol, but our diet is a big contributing factor to the levels of your cholesterol.
6. Limit your calories
Together with smoking and physical activity, dietary habits constitute the foundation for causation, prevention, and treatment of most cardiovascular diseases, including coronary heart disease (CHD), stroke, type 2 diabetes mellitus (DM), sudden cardiac death, atrial fibrillation, heart failure, and vascular cognitive decline. Eight of the top 25 modifiable causes of all global morbidity and mortality were dietary, including insufficient intake of fruits, nuts, whole grains, vegetables, seafood, omega-3 fatty acids, dietary fibre, and excess intake of salt and processed meats. Diet determines 80% of what your weight will be.
Below is a quick overview of what constitutes a healthy diet
Saturated fatty acids (fatty beef, lamb, poultry with skin, beef fat, lard and cream, butter, cheese, etc) can account for trans unsaturated fatty acids, as little as possible, preferably no intake from processed food, and 30 to 45 grammes per day, preferably from wholegrain products.>=200 gram of fruit per day (2-3 servings).>=200 gram of vegetables per day (2-3 servings). Fish 1 to 2 times per week, one of which to be oily fish, 30 grammes unsalted nuts per day. Sugar-sweetened soft drinks and alcoholic beverages consumption must be discouraged.
7. Make exercise a daily habit
The lack of exercise also contributes to the obesity epidemic in many countries. To remain healthy, you need to exercise as follows: At least 150 minutes a week of moderate aerobic physical activity (30 minutes for 5 days/week) or 75 minutes a week of vigorous aerobic physical activity (15 minutes for 5 days/week) or a combination thereof. However, exercise alone contributes 20% of maintaining your weight at a desirable range.
8. Compliance to your
prescribed treatment
Once you have developed high blood pressure, diabetes, high cholesterol, stroke, heart attack, compliance to prescribed treatment will be highly valuable to you in limiting further complications.
9. Reduce stress
Low socio-economic status, lack of social support, stress at work and in family life, hostility, depression, anxiety and other mental disorders contribute to the risk of developing CVD and a worse prognosis of CVD. There are plenty of options which help reduce stress, such as regular exercise, adequate sleep, striving for a good marriage, laughing, volunteering or attending religious services. In my view, watching TV, especially daily news, generally does not relieve, but aggravates stress. Also, try to avoid situations and people who make you anxious or angry.
10. Ensure that your sugar levels are within normal ranges
Compared with non-diabetic persons, patients with diabetes have a two- to four-fold increased risk for the development of and death from cardiovascular diseases. So, begin to take responsibility for your health by following these 10 tips, and you will be well on your way to improving and maintaining your health at every age and stage of life.
* James Nkurunziza is a specialist physician cardiologist at Ongwediva MediPark.