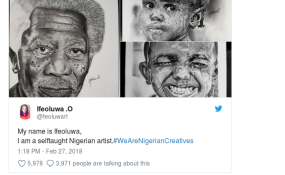 Photo: Ifeoluwa .O/Twitter
By Socrates Mbamalu
Nigeria is a country with an abundance of talent, but does the world really know? Nigerians on Twitter showcased their creativity and talent using the hashtag #WeAreNigerianCreatives. We curated some of the posts, which will blow your minds away.
For nearly a week, Nigerian creatives have been showcasing their work on Twitter with the hashtag #WeAreNigerianCreatives. Many Nigerians across the globe rallied around the hashtag with pictures of what they create.
Fashion designers, animation artists, visual artists, props and costume makers, graphic artists, pencil artists and woodworkers among so many others. The hashtag is evidence of the huge human resource the country is blessed with.
Nigerian writer Nnedi Okorafor also joined in sharing her work. Professor Okorafor has writer over 14 books of African Science Fiction (Scifi), magical realism and has received various awards.
For a country that's on the world news for disastrous news from Chibok kidnappings to corruption, #WeAreNigerianCreatives showcased another side of Nigerians that goes unreported.
The proud Nigerian creative introduced themselves and what they did. The rest was left to retweets and likes.