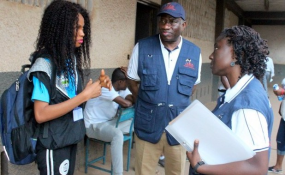 Photo: Premium Times
Monrovia — President George Manneh Weah is calling on the people of Sierra Leone to put their country first as the country holds crucial elections in Wednesday, March 7, 2018.
According to an Executive Mansion release, President Weah made the call upon his arrival from Abuja, Nigeria following an official State visit to the Federal Republic of Nigeria.
He said Sierra Leone will mark yet another historic milestone in the consolidation of its democracy and enjoined all Sierra Leoneans to remain peaceful as they go to the polls to exercise their constitutional rights to vote for a new President.
President Weah urged the people of Sierra Leone to emulate the good example of Liberia, who after nearly 14 years of civil war realized peace is the true path to development.
He noted that protecting the peace in our region is paramount to every ECOWAS Member State and recalled that during his visit to Abuja in Monday, March 5, 2018, he and President Buhari reaffirmed ECOWAS' commitment to maintaining democracy, peace and security.
President Weah then admonished all Sierra Leoneans to put their country first. No candidate is bigger than Sierra Leone.
He concluded asking ECOWAS and other International observers to ensure the process in Sierra Leone is free, fair and transparent.