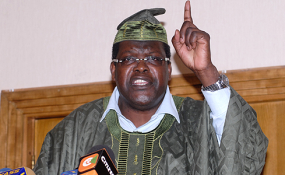 Photo: Salaton Njau/Daily Nation
By Mwende Kasujja
Exiled Nasa firebrand Miguna Miguna needs your money to cater for his travel from Canada where he was deported to by the government a month ago.
The self-declared National Resistance Movement (NRM) general has appealed for funds from well wishers on Twitter setting up a PayPal account.
His appeal elicited mixed reactions with some users saying a revolution must be funded by the citizens while others told Miguna to seek funds from the infamous Nasa paybill account.
Miguna had stated that he needs money for his travel, to pay his lawyers and repair his Runda house that was destroyed as police arrested and deported him early last month.
Yes; I need an air ticket to return home. I also need funds to repair my destroyed house and to pay my advocates who have been working tirelessly without pay from Feb. 2nd up to now in order to protect my rights. Are you able to contribute? Feel free to do so. Viva! #UhuruMustGo https://t.co/Ee0KdIyM6N
-- Dr. Miguna Miguna (@MigunaMiguna) March 6, 2018
@brianod20444574 commented, "Give us the pay bill number... I'll contribute the little I have to facilitate your coming back... The Ardent supporters of NRM needs you than before... Pesa otas you must come back!!"
Miguna replied, "Please use the @PayPal. It is easier to use than the Pay Bill system. Moreover, the despots will impound our resources if we use the paybill."
@mtkenyamafia stated, "Those are not reasons enough to become an international beggar. They are fantasies! Try to live within your means and hassle like other gentlemen. You are letting us down, General. This is fraud!"
@MaskiniMilionea added, "So the money is to solve your financial problems. You are abusing the generosity of @RailaOdinga supporters. You should work and solve your problems like all #NRM comrades who were victimised by the government. You never helped any or went to any burial like Raila. #NRMKe."
@Abdulazizmsalim wrote, "There is nothing wrong with asking for assistance. He is honest enough to state why he needs the money."
@1kimjim questioned, "Are we the ones who destroyed your house?"
@Victorbettkip wrote, "Miguna you are not even ashamed to say so... Yaani I pay tax to cater for such nonsense please stay in your country Canada."