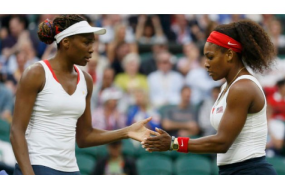 Photo: Leadership
By Sylvania Ambani
A comment by American tennis star Serena Williams expressing her desire to launch a top tennis tournament in Africa, particularly in Kenya, has excited Kenyans on Twitter.
Williams made the remarks during an interview on BBC, where her opinion was sought on having a tennis event in Africa to help grow the sport in the continent.
She confirmed that it was actually something she has been thinking for a while and would one day in the future realize that dream.
"It is something I have thought about, and I would like to keep thinking about it. Because I think it would be amazing, it would be so fun. First of all to go there, the help we could do, and the awareness. And the athletes and the amazing players that would come out," Williams said.
When asked if Kenya would be her first choice where she responded: "Well it's one of my favorite places to go, so why not?"
A top tennis tournament in Africa one day? Serena Williams says she's thinking about it and "it would be amazing". 🎾
Watch more of the interview: https://t.co/EqlnJNZ8c1 pic.twitter.com/GLnlOU8hpJ
-- BBC Africa (@BBCAfrica) March 6, 2018
KOT expressed their joy, welcoming the tennis star in the country.
@GovOjaamong said, "Karibu Busia County, #SerenaWilliams."
@AnansiTal remarked, "Kenya? Hahaha. Where will she play tennis when Arap Mashamba has grabbed every open green piece of land in sight?"
@AdiePrestone wrote, "I know this better be real. I will buy the cheapest ticket just to watch her play."
@MfwaMaseghe said, "We used to host the WRC tour, we can host whatever tour Serena wants us to host. Can it be i(o)n the SGR?"
@frankmugo wrote, "there goes our Bukusu girl, let's do this!"
@Tmusakasereka commented, "Come Sister Come and inspire many Talents here which by far not tapped into."
@MarkMakis said, "Kenya is a beautiful country. She is welcomed."
@StraightCops wrote, "Her grandparents are from Kenya. So it's understandable."