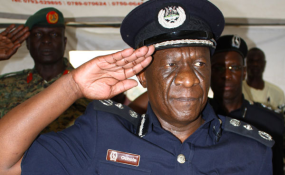 Photo: Andrew Bagala/Daily Monitor
By Moses Kyeyune
Parliament — Mr Martin Okoth Ochola, the newly appointed Inspector General of Police starts his new task with a "zipped mouth" for the press.
Shortly after appearing before the appointments committee of Parliament chaired by Speaker Rebecca Kadaga, Mr Ochola simply walked away, without a simple response to questions put to him by journalists.
It is a practice for journalists to interact with presidential nominees after appearing before the closed-door vetting exercise.
This provides them with the opportunity to formerly engage these nominees on their (candidates) experiences with the committee and to hear what they have on table for their new offices.
But for Mr Ochola, the cameras could have appeared shocking with the questions stinging from all expectant reporters, which perhaps he's not used to despite his 30 year experience on police job.
"Find me at [police headquarters] Naguru," he said told journalists.
This, to journalists, sounded rather odd and many left cursing with disappointment.
Dressed in black slacks and a dark red neck tie, Mr Ochola, was the first to arrive for vetting out of all the three candidates; Gen Elly Tumwine, the new Security minister and Brig Sabiiti Muzeyi, the deputy IGP.
Mr Ochola replaces, Gen Kale Kayihura as Police Chief while Gen Tumwine replaces Lt.Gen (rtd) Henry Tumukunde who were sacked on Sunday at the helm of rifts within sister security organs.