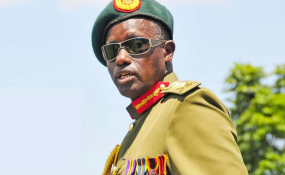 Photo: The Observer
By Moses Kyeyune
Parliament — Newly appointed minister for security, Gen Elly Tumwine says the security crisis in the country needs a collaborative cure.
Speaking to journalists at Parliament shortly after appearing before the appointments committee on Wednesday, Gen Tumwine said that the media and the general public have a critical role to play in helping security organs curb crime.
"All of us, using the goodwill I see, [should] come together and work for our country together instead of doing it in a divided way," he said.
Gen Tumwine added that, "divided we have insecurity, united we have security so the media should report both the good and the bad."
About the rifts within sister security organs, Gen Tumwine said that such manifestations have always been solved whenever they occur.
He said that there is now a good team to ensure collaboration within the security agencies.
"Where we have hitches, we always correct them and that (bickering) will be streamlined. We have a good team to work with. We shall end it," said Tumwine.
Gen Tumwine, one of the 10 army MPs was appointed to replace Lt Gen (rtd) Henry Tumukunde in a shakeup that also ended Gen Kale Kayihura's reign as Inspector General of Police.
The reshuffle saw Mr Martin Okoth Ochola replace Gen Kayihura and deputized by Brig Sabiiti Muzeyi, who has been the commandant of the military police barracks in Makindye.
Meanwhile, the four-star military general and Member of Parliament renown for military motivation songs, especially those rallying masses for peace, said he will push on with his music career despite his new appointment as security minister.