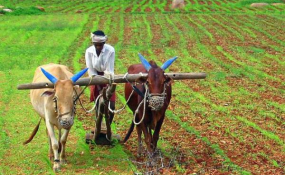 Photo: The Citizen Tanzania
By Sanjito Msafiri
Coast Region — As Tanzanian women join other women across the world to mark the International Women's Day today, it has been revealed that 60 per cent of the women in Tanzania engage in agriculture.
This was said yesterday, March 7, by the board chairperson of the Tanzania Agricultural Development Bank (TADB), Ms Rosebudi Kurwijila, when handing over Sh4 million in aid to the Faraja Group in Ruvu, Coast region, who are engaged in farming vegetables and fruits.
Speaking during the event, Ms Kurwijila said Tanzanian women play an important role in farm crops production, doing so in addition to other responsibilities that include taking care of their families. Their farming activities go a long way in safeguarding the society against food shortage.
"The money provided to the Group today will be used to purchase water pumps to boost the irrigation farming system on the women's farm located in Bagamoyo districy, in the region," Ms Kurwijila said.
The Faraja Group secretary, Ms Maua Malingumu, said lack of agricultural inputs, poor marketing development and lack of professional counselling are the major challenges which the group faces today.
"We request the government to join hands with us as we are committed to the production of vegetables and fruits. We needed assistance in improving our irrigation infrastructure, and this grant will enable us to carry on the business more efficiently well into the future," she said.
The Coast regional commissioner, Mr Evarist Ndikilo, urged the group members to use the aid for the intended purposes.
"Sixty per cent of the region's revenue comes from agriculture. My office will continue to connect farmers with various financial institutions in order to surmount the challenges which the farmers face," Mr Ndikilo pledged.