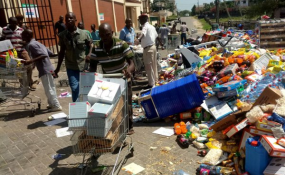 Photo: Kevin Odit/Daily Nation
By Winnie Atieno
Nakumatt, the once large supermarket chain, was thrown out of the upmarket Nyali City Mall in Mombasa on Wednesday.
This followed a court order for defaulting on Sh27.8 million rent.
EJECTED
Makuri Auctioneers official Joel Muasya said the order was issued on Monday by the Mombasa law courts.
More than 10 police officers guarded the premises as the auctioneers removed goods from the supermarket from 9am.
The supermarket officials watched helplessly as goods worth millions of shillings were thrown out and left at the parking bay and behind the building's premises.
"I am just executing a lawful court order. This is an eviction against Nakumatt Supermarket from this building.
"We are not carrying any goods. Ours is to just evict them from the building and close it down. Whoever has their goods should remove them," Mr Muasya said.
The auctioneer said they would hand over the premises to the landlord.
WORKERS
More than 20 workers said they were happy Nakumatt was ejected as they had not been paid for months.
"We have not been paid our salaries since September last year but God is God of justice; Nakumatt is paying back for the injustice," a worker said.
Hundreds of residents and tourists milled around the area, expressing surprise.
They watched as rice, sugar, biscuits and oranges were destroyed.
"We are waiting for the owners to donate the food. This is so sad. Some people are sleeping hungry while food is being destroyed," Ms Jenny Okello said.
THEFT
During the eviction, a man was arrested for stealing clothes.
The man had been contracted to help in removing items from the supermarket but he went to the clothes area, put on the clothes and began walking away.
But police pounced on him and forced him to remove the expensive clothes.
"Forgive me please. I just wanted to feel nice," the man pleaded with the officers.
He had put on two pairs of jeans, five checked shirts and two coats.
Police detained the man in a room at the premises.
NOTICE
A notice of forfeiture seen by the Nation states that following a court order dated March 6, 2018, Ideal Locations Limited has exercised its right to evict Nakumatt Holdings from its property as the supermarket did not fulfil its lease obligations.
"Ideal Locations Limited remains committed to operating within the confines of the law and is thankful the legal and justice system was able to clearly see the injustice of a tenant continuing to stay on a property without paying rent along with failing to meet numerous other conditions of the signed lease," an official from Ideal Locations Limited told the Nation.
The matter is still before court.
The auctioneer told the Nation that if the High Court orders more evictions he would execute the orders.