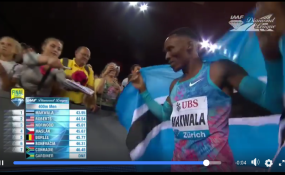 Photo: Screenshot
By Anastacia Sibanda
Gaborone — Tuks Stadium in Pretoria, is expected to come to a standstill when Botswana's runner, Isaac Makwala competes among top athletes to hit sub 31 in the 300m dash during the Liquid Telecom Athletix Grand Prix Series Meeting today (March 8).
To date, only three athletes have managed to run sub 31, with South African Wayde Van Niekerk clocking the world best time of 30.81, which he clocked in winter last year, where he broke the previous record of US athlete Michael Johnson's 30.85. Jamaican athlete, Usain Bolt clocked 30.97 in Otsrava eight years ago.
Now, the millon dollar question is, will Badman's name be engraved in athletics books as one of the athletes who has run sub 31? Already, he has clocked 31.44 in Ostrava last year.
Today (March 8), he will compete against among others, Thapelo Phora, Ofentse Mogawane and Pieter Conradie.
Makwala's confidence and top notch form clearly indicate that his sub 31 target is attainable.
Makwala shocked Africa by clocking a better time in his first race of the season with a time of 45.03 in 400m at the inaugural Liquid Telecom Athletix Grand Prix Series Meeting in Roodepoort, Johannesburg last Thursday.
He said in an interview that he had been working very hard during the off season but he did not compete until last week; hence he was confident that he would attain his target.
"I am approaching this season with a different mentality. I will be going all out in the 300m race. My intention is to be the fourth athlete to run sub 31. It's a pity that I am running this race now and if it was around May and June, I will be going for the World Record," he said.
Some analysts are of the view that Makwala's target was attainable looking at his confidence.
Patrick Moesi said it was possible that Makwala could run sub 31 adding that with the right mindset and good conditions, he would record another achievement.
"Makwala is very determined and has a strong character. Once he puts his mind to something, he can do it. I believe that with the times he has run before, he is capable of going under 31. I believe he can go for that and be amongst a very few athletes who would have achieved the feat," he said.
Moesi said his 45.03 season opener shows that he was reaching his peak at the right time for the Commonwealth Games.
Billy Tambula said looking at the past Grand Prix race, Makwala's 400m time was fast enough to see him doing very good in 300m.
"I think sub 31 would be a bit tough after only two races. It's a mountain to climb looking at the timing of the race. But with Makwala, it is not easy to predict the times he will record. He might just smash his 300m PB when some of us think he have to reach his peak to do it," he said.
The 300m men's race will also feature Onkabetse Nkobolo, Pako Seribe and Leaname Maotoanong.
Meanwhile, Amantle Montsho, Christene Botlogetswe and Leungo Matlhaku will also partake in the 200m ladies race at the same event.
Source : BOPA