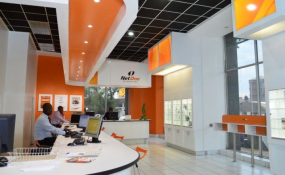 Photo: The Finacial Gazette
Mobile telecommunications operator, NetOne, has appointed Lazarus Muchenje as its new chief executive officer (CEO) with effect from April 1 2018.
Muchenje takes over from Brain Mutandiro who has been acting since June 2016 after then CEO Reward Kangai, was suspended the previous month for three months as the operator prepared for a forensic audit to investigate corruption allegations.
In a statement, NetOne described Muchenje as a "distinguished leader in the telecommunications Industry with over 18 years' experience across the various sections of the mobile telecommunications value chain".
Mtandiro has revert to his substantive position of chief operating officer. Prior to this appointment, Muchenje was CEO of Intarget Group since 2014. Before joining Intarget, he was CEO of FirstRand Bank Celpay Internationall BV between 2005-2013.
Other positions he has held include Executive Head of Sales for Vodacom South Africa, Executive Head of Wireless Application Services and VAS for Vodacom, Sales and Marketing Director for Vodacom - Demicratic Republic of Congo (DRC) and Founding Finance Director of Vodacom - DRC. NetOne also appointed Nkosinathi Ncube as managing director - Mobile Financial Services with effect from April 1. "He has a wealth of experience in banking and mobile financial services spanning over 20 years. Mr Ncube has spearheaded several innovations in the mobile money space. He has held various leadership positions some of which include Head of Applications Lab at Finmark Trust from 2016 until recently. Chief Commercial Officer - Telecel Zimbabwe (2014-2016), Financial Service Director - Telecel Zimbabwe (2013-2014), Ecocash Executive - Econet Wireless Zimbabwe - (2010 -2013) and Product Owner - Mobile Banking Services - ABSA - (2008 - 2010)," said NetOne in a statement.