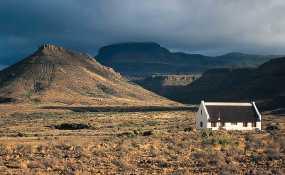 Photo: South African Tourism/Flickr
analysis
Farm dwellers and former labour tenants ask which land President Ramaphosa is talking about, who will it be given to, and for what. By SITHANDIWE YENI.
While the ANC resolution, supported by the EFF, to expropriate land without compensation has been cheered by many, farm dwellers and former labour tenants from Mpendle, Mshwathi, Richmond, Gongolo, Muden, Mpofana, Mngeni and Mkhambathini in uMgungundlovu, Kwa-Zulu-Natal, are not celebrating. Instead they are anxious, uncertain, upset, and have more questions on this issue.
One would have assumed that farm dwellers would be screaming for joy at the news of land expropriation, given that most of them live in horrible conditions without security of tenure on predominantly white-owned commercial farms. Farm dwellers are farmworkers, ex-farm workers and any person living on privately owned farms. They trace their occupation back through generations and farms are often the only home they know.
Former labour tenants refer to African people and their descendants who were forced to become tenants as land was taken over by white farmers, in return for which they provided the landowner with unpaid labour.
In his State of the Nation Address, President Cyril Ramaphosa said the plan is to increase agricultural productivity in order...