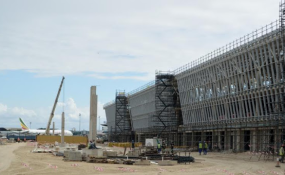 Photo: Daily News
By Jimmy Lwangili
CONSTRUCTION of Terminal Three at the Julius Nyerere International Airport (JNIA) is now complete by an estimated 70 per cent. The time to complete the project has been extended to May, next year, instead of December, this year.
The Engineers Registration Board (ERB) Vice- Chairperson, Ms Gemma Modu, said the time of project completion has extended due to various challenges including availability of quality construction materials which are bought from abroad, so it takes time materials to arrive in the country.
She said that in Dar es Salaam yesterday when the ERB team visited to the project area to assess the progress, challenges and achievements of the project. She mentioned other challenge as time of shifting from one phase to another. "So far, agreement between the government and contractors of the project have already made for extension of time to complete the project," she said.
Ms Modu said the remained percentage for completion of the project is just part of mechanical and electrical engineering. Speaking to the same occasion, ERB Quantity Surveyor and Board Director, Mr Samuel Marwa said Euro million 30 has increased in the cost of project construction.
The increase is due to the cost of changes of project designing, tax laws and employment laws. Earlier, the cost of construction of JINA terminal three under the BAM International Company was 560bn/-.
Mr Marwa said the Board have advised the constructors to consider time for project completion.
According to him the project provided 1,800 employments, where the number of local workers is bigger than the foreigners. "When completed, the security level in the terminal three airport would be so tighten due to modern security system installing here," he said.