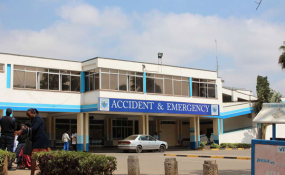 Photo: Dennis Onsongo/The Nation
By Simon Ndonga
Nairobi — The Kenyatta National Hospital has now revoked the suspension of medics who were involved in the recent brain surgery mix-up.
The suspension was lifted by the hospital's board, which was mandated to investigate the matter by Health CS Sicily Kariuki.
The board says the move is aimed at ensuring services resume at the region's largest referral hospital which is facing a major crisis after registrar doctors and nurses downed tools to protest the suspension of their colleagues.
The action comes a day after the hospital released the man who underwent the wrong surgery.
Also discharged is the patient who was supposed to undergo the surgery on the day the wrong patient was wheeled into theatre due what the hospital attributed to confusion in their name tags.