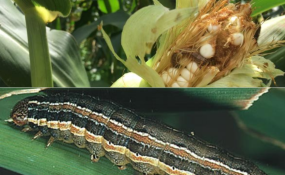 Photo: allafrica.com
By Sakeus Iikela
Government has lost approximately N$15,2 million as a result of the fall armyworm outbreak at its main green schemes since late 2016.
Agriculture minister Alpheus !Naruseb said this in the National Assembly on Tuesday.
He said the maize output of the affected green schemes dropped from 17 829 metric tonnes recorded in 2015/16 to 14 437 metric tonnes in 2016/17.
"This decrease is equivalent to 19% of the expected production, and in monetary terms, this represents a loss of approximately N$15,2 million," he stated.
Green schemes were still badly affected by the armyworm this year.
The armyworm has been detected at green scheme projects at Shadikongoro, Shitemo, Ndonga Linena, Uvhungu-vhungu, Sikondo, Musese and Etunda.
!Naruseb said the "degree of infestation on average" ranged between 10% and 40%, with Etunda in the Omusati region the hardest-hit.
The ministry would thus need financial assistance to control the spread of the armyworm at the seven affected government green schemes. This would include funding to intensify spraying programmes to control the adult moths that lay the eggs at the farms, as well as to restock the affected projects.
According to the minister, the envisaged aerial spraying programme at Etunda would cost about N$1,1 million for the 1 200 hectares of the irrigation project.
The seven affected green schemes cover a combined 6 465 hectares.
The minister said a contingency plan has been developed, entailing the establishment of a national task force, an early warning system, the procurement of pesticides, as well as the training of farmers and technicians.
The ministry also provided small-scale farmers, particularly at Etunda, with chemicals to combat the outbreak.
Some green schemes, such as Etunda, were forced to suspend the production of some crops, while implementing crop rotation at others, while other schemes such as Musese replanted "almost the whole field" of about 450 hectares. !Naruseb said the challenging factors in fighting the pest were the high cost of chemicals, and the fact that "some recommended programmes are unaffordable, particularly to small-scale farmers".
"As a classical example, one of the recommended chemicals, called Warlock, costs N$339 per hectare, and the recommended rate or dosage is one litre per hectare," he said, adding that it was recommended that every farm undergoes "four rounds" of spraying.
"In view of the looming drought, we strongly recommend that government sets aside sufficient funds, estimated at N$72 million, to buy up grains for the national strategic food reserves," the minister continued.
Despite the challenges posed by the fall armyworm outbreak, the harvest outlook remained positive for green schemes.
According to !Naruseb, the estimated harvest for this season would be 16 019 metric tonnes, with the exclusion of Musese, which supplies maize to its own milling plant at Rundu.