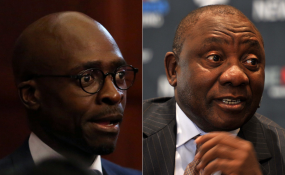 Photo: allafrica.com
President Cyril Ramaphosa's "new dawn" turned out to be an old yawn for DA chief whip John Steenhuisen.
Steenhuisen, who regularly raised the matter of absent ministers during question sessions with Ramaphosa when he was deputy president, found that he had to cover familiar territory in the first question session since Ramaphosa became president, with David Mabuza as his deputy, on Wednesday.
"In the very first plenary session for oral questions for President Cyril Ramaphosa's ministers in the peace and security cluster, it was more apparent than ever that little has changed in the 'renewed' ANC," Steenhuisen said in a statement released on Thursday morning.
"President Ramaphosa and Deputy President Mabuza secured an appalling attendance rate for Cabinet ministers. In fact, attendance in yesterday's question session was seemingly on par [with] what was typical under the [Jacob] Zuma administration."
Home Affairs Minister Malusi Gigaba and International Relations and Cooperation Minister Lindiwe Sisulu were the two ministers who didn't attend while they had questions to answer to.
Steenhuisen especially had it in for Gigaba, calling him a "constitutional delinquent" and saying that he "displayed staggering skill in dodging accountability and flip-flopping".
During the sitting, Speaker Baleka Mbete read a letter from Gigaba, which stated that he couldn't attend the sitting due to illness.
"Initially, Minister Gigaba indicated that he would be attending the oral questions session. Then, according to a memo sent out by Parliament on March 6, the minister backed out, indicating that his deputy would be in attendance in his stead," said Steenhuisen.
"However, on March 7, a revised memo from Parliament indicated that the minister would again avail himself to attend the session. However, despite the undertaking in the revised memo, Minister Gigaba was ultimately a no-show in the House."
"Minister Gigaba was very likely dodging Parliament to avoid pressing questions around the Gupta family's citizenship and the judgment of a full Bench of the High Court in the mater of Fireblade Aviation (Pty) Ltd v Minister of Home Affairs, which found him to have violated the Constitution and lied under oath."
Ramaphosa's promise 'amounted to nothing'
On Tuesday, Gigaba said Atul and Ajay Gupta are not South African citizens.
On Wednesday, he said he "erroneously" said Atul isn't a citizen, after social media sleuths unearthed his South African ID number and voter registration.
The court judgment Steenhuisen refers to, follows a court battle launched by Fireblade Aviation, owned by the wealthy Oppenheimer family, in November 2016 against the Department of Home Affairs and others.
The application sought to have the court declare that approval for a terminal at OR Tambo International Airport - allegedly granted by Gigaba in early 2016 while he was still Minister of home affairs - could not be revoked. It is alleged that Gigaba revoked the approval he originally granted under pressure from the Guptas.
While Gupta-linked ministers such as Des van Rooyen, Mosebenzi Zwane, Lynne Brown and Faith Muthambi got the chop when Ramaphosa shuffled his Cabinet last week, he retained Gigaba, albeit in the home affairs portfolio, rather than that of finance.
Gigaba was also due to address the Portfolio Committee on Public Enterprises' inquiry into state capture this week, but he asked for more time to prepare. The committee members accepted his request, and gave him 10 days from Wednesday.
Steenhuisen said Mabuza, as leader of government business, was "either unwilling or unable to make sure that ministers like Gigaba toe the line and fulfill their constitutional responsibility to Parliament".
"Ministers are running scared and dodging their constitutional responsibility to account to the people of South Africa through Parliament," he said.
"The paltry performance by Cabinet ministers yesterday is proof that the promises that President Ramaphosa made during the State of the Nation Address have amounted to nothing - accountability has not been prioritised and his administration is already showing signs of treating Parliament with contempt."
Steenhuisen said the DA would write to Mabuza as the leader of government business to request that he ensures that ministers appropriately account to Parliament in accordance with constitutional requirements.
EWN reported on Thursday that Mbete also wrote to Mabuza on Wednesday evening and raised "very strongly the concerns" of ministers not showing up when required in the National Assembly.
Source: News24