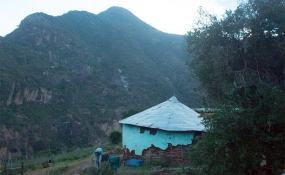 Photo: Masixole Feni/GroundUp
analysis
The vote to look into the expropriation of land without compensation has been recently won in Parliament. And the Anti-Racism Network has announced its Anti-Racism Week, from 14-21 March. South Africa seems head-locked in the social ills of the past. By NKATEKO MABASA.
"We have come a long way," said Mcebisi Jonas, former Deputy Minister of Finance, at the launch of the yearly Anti-Racism Week event hosted at the Apartheid Museum.
Arts and Culture Minister Nathi Mthethwa, in his few remarks, announced that the Hate Crimes Bill will finally go through Parliament before the end of the term. This Bill is meant to finally tackle crimes that are racial in nature, but it will also include the criminalising of gender-based violence and xenophobia. Back First Land First (BLF) also published their own version of an anti-racism bill in response and crticised the Hate Crimes Bill for being misguided in defining racism.
And it seems that the fundamental question underlying the current political debates is this: how do we tackle the crimes of the past today? Land expropriation without compensation has taken centre-stage and brings back old ideological debates of apartheid South Africa.
The third Anti-Racism Week, said Jonas, is a...