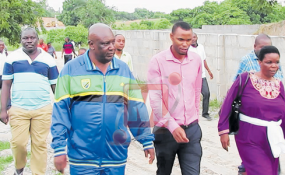 Photo: Venance Nestory/The Citizen
By Citizen Reporter
Dar es Salaam — The Deputy Minister in Vice-President's Office (Union and Environment), Mr Kangi Lugola has given a one month ultimatum to the Export Processing Zones Authority (EPZA) to control water pollution in factories.
"There are plenty of complaints from people, but they all go unanswered. However, the government has now heard their voices and I am, therefore, giving the EPZA one month to end this problem," he said.
Accompanied by National Environment Management Council (NEMC) officials in a one-day tour of the EPZA area in Ubungo, Dar es Salaam, Mr Lugola witnessed environmental pollution in the area, which prompted him to issue the ultimatum.
"Local government leaders have enough powers to deal with issues related to environmental pollution in their respective areas. There is no reason at all for them to hesitate to take action against the violators," he urged.
Mr Rigobert Massawe, the Executive Director of Took, one of the factories accused of polluting environment at the EPZA area, pointed out that his factory uses plenty of water because it is a textile, but said the EPZA bosses should be the one responding to the accusations.
"Our production requires plenty of water unlike other factories. At the EPZA area there is a challenge of sewerage infrastructure, we are not careless, but I think there is a challenge that needs to be addressed," he said.
Mr Massawe noted that he was ready to cooperate with the authorities in solving issues that have been troubling people and manufacturers in the area, but insisted that his factory was not deliberately polluting the environment.
The NEMC Coordinator in Eastern Zone, Mr Jaffar Chimgege said the EPZA area's challenge was unique due to presence of several factories, thus making it hard to determine who among the producers was responsible for pollution.
A resident of the area, Mr Alfred Mushi told the deputy minister that it seems that there was conspiracy as water from the factory was less polluted on the day of tour.
"Factories here release coloured water with unpleasant smell, but today we are surprised to see clear water.
"This suggests that there is conspiracy after being tipped about the minister's visit," he said.