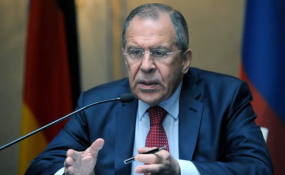 Photo: The Herald
Ethiopia and Russia through their foreign ministers have agreed to reinforce diplomatic and economic relations to heighten the level of their partnership.
Foreign ministers of both countries today discussed on a number of issues that would further bolster the over 100-year ties.
Enhancing ties in the economic area including trade and investment as well as peace and security was among the agenda of the ministers.
Ethiopia's Foreign Minister Dr. Workneh Gebeyehu during the joint presser said both countries have a desire to improve their multi-faceted relationships.
He expressed Ethiopia's confidence over the age-long and historic relationship of the two countries.
Though the two countries established diplomatic relations officially in April 1943, the history of their relationship has its origins before. The Soviet Union was one of the five nations which refused to acknowledge Italy's occupation of Ethiopia.
"We agreed on and we are proceeding to work on nuclear energy for peaceful purpose that is also another development that we agreed with his Excellency Sergey Lavrov" he said.
"And also the other good news is we are going to start very soon, after we finish all process, to start direct flight from Addis Ababa to Moscow that will help to boost people to people relationship, and economic development and trade between the two countries" he elaborated.
Dr. Workneh indicated that their discussion was very fruitful as they talked bilateral issues on the economic ties, investment and trade.
"This visit helps to make reflection on our outstanding, long-standing and historic past and back on working transitions to the modern times and upcoming generations" , he said.
"We are very delighted to work in all aspects and thus the visit will assist this relationship to boost in to other high level", Dr. Workneh elaborated.
The Russian Minister, Sergey Lavrov said the two countries have given emphasis to the need to enhance the cooperation in trade, and investment.
"We have agreed to give an addition of boost to the work of intergovernmental commission for the sake of implementing joint projects in a number of domains such as energy, biological researches, direct flight connections and many other", he said.
He said, "We have planning a number of intergovernmental agreements as well as memorandum of understanding that are going to reinforce the legal foundation of our relation."
Lavrov added that Russia will also work with Ethiopia for the peaceful resolution security issues in the horn of Africa such as South Sudan.
Ethiopia and Russia are celebrating the establishment of 120th year of diplomatic relationship with several events and the visit of Russian Foreign Minister to Ethiopia is part the celebrations.