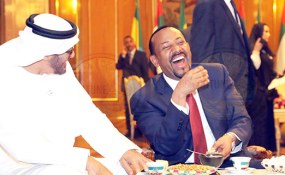 Photo: Addis Fortune
The visit of the foreign ministers of UAE, U.S, and Russia is a diplomatic victory for Ethiopia, Foreign Minister Workneh Gebeyehu said.
In his presser, Workneh said the week can be considered as historic that ensures diplomatic victory as it helped to discuss ways of further consolidating bilateral ties with each country.
He said the visit of the three foreign ministers does not connect with the current situation rather it is a scheduled program aimed at discussing on bilateral cooperation.
He indicated that the visit is recognition for Ethiopia's role in the region, the continent and global peace and stability efforts.
The visit of the U.S Foreign Minister Rex Tillerson displayed the strong desire from that side to enhance in partnership.
Agreements have been reached to improve partnership and cooperation particularly in economic sphere.
Similarly, the discussion with the Russian Foreign Minister Sergey Lavrov was concerned on strengthening the relationship established 120 years ago, he added.
Ethiopia's relation with Russia is not ideological but depends on mutual interests that can benefit the peoples of both countries, Workneh added.
Agreement was also reached with the Russian Minister to further strength the ties in the economic sector particularly trade, investment and energy.
Speaking about the visit by UAE Foreign Minister Sheikh Abdullah bin Zayed bin Sultan Al Nahyan, Workneh said is successful in that they reached consensus to strength economic and diplomatic ties.
The two sides have discussed and agreed the need to work for the protection of the rights and dignity of Ethiopian workers in UAE. They are working to conclude the labor agreement.
They also discussed ways of consolidating cooperation in trade and investment by encouraging more UAE investment in Ethiopia. Some 98 UAE projects with a combined capital of 10 billion USD are being underway in Ethiopia.