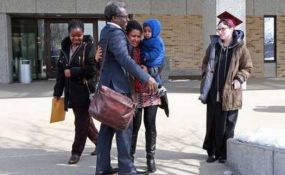 Photo: Nairobi News
By Kipchumba Some and Chris Wamalwa
A relative of Devolution Cabinet Secretary Eugene Wamalwa is to be deported from the US after his appeal for political asylum was denied.
Dr Mzenga Aggrey Wanyama, who teaches at Augsburg University in Minneapolis, Minnesota, and his wife Mary Namalwa Mzenga, have attracted huge support as they face deportation from a country they have lived in for 25 years.
"Well, what can I do? If they want me to buy my own ticket, I will do that," he told the Minneapolis-based StarTribune newspaper on Thursday. Dr Wanyama told the publication that he had resigned himself to the deportation at a time when US President Donald Trump is increasingly taking a hard-line stance on immigration.
On Friday, Dr Wanyama and his wife met in the Twin Cities (Saint Paul and Minneapolis) with officials of Immigration and Customs Enforcement to review their case and discuss plans for deportation.
REPORT TO IMMIGRATION
Dr Wanyama was ordered to report back to the immigration officials next month to plan for his repatriation to Kenya, even as his university and the community of Minneapolis-Saint Paul put pressure on immigration authorities to spare him.
Minneapolis Mayor Jacob Frey said in a statement that Dr Wanyama was a pillar in the community and the region was better for his work.
"No president, no federal agency will deport Dr Wanyama without a fight from me, from our partners in the state and federal delegations, and from the thousands of people in Minneapolis who share our values," said Mr Frey.
ENTERED US IN 1992
Dr Wanyama first entered the US in 1992 as a non-immigrant exchange visitor.
He was followed in 1995 by his wife and children Billy Levin Mzenga, 30, and Billy Masibai Mzenga, 26.
The two children are protected from deportation under the Deferred Action for Childhood Arrivals programme.
A third son, a 19-year-old attending the University of Minnesota, was born in the US and is a citizen.
ASYLUM
Upon expiration of his visa in 2005, Dr Wanyama applied for asylum.
He claimed he will be persecuted in Kenya primarily on account of an article he wrote in The Standard newspaper in 2004 criticising the government of President Mwai Kibaki and praising his opponent Raila Odinga.
Dr Wanyama told a US immigration judge that the Kenyan government began harassing his family members in Kenya after the article was published.
He claimed that his brother was fired as managing director of a parastatal, and an MP made "suspicious remarks" to Dr Wanyama's mother, questioning her about his activities and whereabouts. Several other family members sent emails to Dr Wanyama telling him he should not return to Kenya for safety reasons, he testified before the judge.
POLITICAL OPPONENT
Additionally, as his removal proceedings progressed, Dr Wanyama wrote two more articles in The Standard newspaper supporting Mr Odinga's candidacy in the 2007 General Election.
After the articles were published, Dr Wanyama claimed the Kenyan government intensified its focus on him as a political opponent based on his involvement with an American political group that supported Mr Odinga.
"To illustrate the danger of being identified as a political opponent, he testified about two of Kibaki's opponents that he believes suffered persecution at the hands of the government," United Courts of Appeal for the Eight Circuit heard in 2012.
He told the court that his cousin Vice-President Kijana Wamalwa's death in a London Hospital in 2003 after a long illness, was under "suspicious circumstances".
"Wanyama theorised that Kibaki's government was responsible because Wamalwa was slated to succeed Kibaki as president pursuant to a memorandum of understanding," the court heard.
DON'S MURDER
He also testified about a professor from the University of Nairobi whom he believed was murdered for proposing the transfer of some power from the presidency to a new prime minister's position, the court further heard.
The professor in question is likely to be Dr Crispin Odhiambo Mbai who was gunned down in his Nairobi home by unknown assailants in September 2003.
At the time of his death, Dr Mbai was a delegate and the chairman of the sub-committee on devolution of power at the National Constitutional Conference of Kenya.
After a hearing in April 2008, the immigration judge closed the proceedings, but asked the parties to submit additional documentation.
In December 2009, the judge reopened Dr Wanyama's case to allow the parties to submit additional evidence, which included evidence of improved country conditions as a result of the formation of the grand coalition government in Kenya in 2008.
PERSECUTION
Although it was found Wanyama's testimony was credible to establish a subjective fear of persecution, the judge determined that Dr Wanyama failed to show an objectively reasonable fear of future persecution.
Dr Wanyama appealed the case to the Board of Immigration Appeals, where he also claimed the judge violated his due process rights by delaying his decision and reopening the case sua sponte (without formal prompting from another party) in December 2009, thereby allowing the US government to present evidence of recently improved country conditions in Kenya.
The board affirmed the immigration judge's decision because it found that the lecturer's testimony could not support an objectively reasonable fear of future persecution, and it denied his due process claim.
APPEAL
Dr Wanyama then took his case to the Court of Appeals for the Eighth Circuit which also ruled against him in November 2012.
"In summary, after reviewing the record, we affirm the denial of Wanyama's petition for asylum on behalf of himself and his family," the court ruled.
The Wanyamas case, like many others in the US, has gained a sense of urgency in the wake of President Trump administration's pledges to tighten border security and step up efforts to deport those who are in the country illegally.
The president of Augsburg University Paul Pribbenow on Thursday joined supporters who fear that a professor is being unfairly targeted for deportation despite his many years as a higher education instructor and crime-free life in the US.
ROLE MODEL
"Dr Wanyama is a role model for the professional aspirations and accomplishments of future leaders in our city and country," Mr Pribbenow told the StarTribune. "We strongly stand behind him and believe he should be able to stay in the US."
Ms Sarah Wairimu Brooks, a Kenyan lawyer based in Dallas, Texas, cautions Kenyans living in the US who find themselves in similar circumstances to be wary of signing documents from immigration officers in the absence of a credible immigration lawyer.
"Wanyama's and other similar cases, which by the way run into thousands if not millions, were previously deemed as low priority by immigration during the Obama administration, in part because he is a full-time professor and has no criminal record. But, in the Trump administration, these are some of the people that are considered to be taking away jobs from Americans," she said.