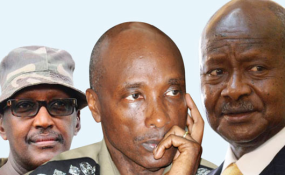 Photo: The Independent
By Haggai Matsiko
Kampala — President Yoweri Museveni on Sunday March 04 moved to clean up the shabby image of the country's security agencies when he fired Police Chief Gen. Kale Kayihura and Security Minister Lt.Gen. Henry Tumukunde.
Although the duo had for some time been discredited limping lame ducks in their positions, some insiders say, the manner of their sacking does not show Museveni at his tactical best and might have exposed him as weak and indecisive, insiders say. Part of the lack of enthusiasm around the shuffle concerns their replacements.
Museveni's biggest move was to replace Tumukunde as the new security minister with Gen. Elly Tumwine. But according to several commenters, it is also the weakest partly because Tumwine's appointment represents a move backwards - to 1986 when he was first army commander, minister of Defence, head of the External Security Agency (ESO) and more.
Although not a novice in security, having been the first bush war commander of Museveni's rag-tag bush army in 1981, Tumwine is now 64 years and been out of effective service since 1996.
His return is read together with that of Retired Col. Frank Kaka Bagyenda, another bush war veteran, to head the Internal Security Organisation (ISO) and the renewed influence of President Museveni's decorated brother and war hero, Gen. Caleb Akandwanaho aka Salim Saleh.
The inter-agency rivalry between Bagyenda's ISO, who was seen as a surrogate of Tumukunde and Saleh, partly prompted this reshuffle. It is not clear what Bagyenda's fate will be now that Tumukunde is out.
Equally interesting is how the boss of the Chieftaincy of Military Intelligence (CMI), Col. Abel Kandiho and the new player at police Brig. Sabiiti Magyenyiof the so-called Muhoozi 1997 group (in reference to young officers recruited and groomed by Museveni's son, Maj-Gen. Muhoozi Kainergugaba) will either gel or break up with the old guard of Elly Tumwine, Bagyenda, and, to some extent Saleh.
Tumwine and Ochola's roles
In reality, a lot rides on how seriously Gen. Tumwine intends to play his role. In the past the Security ministry has been an inconsequential docket.The posting that matters most has always been that of the military head, the Chief of Defense Forces (CDF), currently Gen. David Muhoozi. The Security docket has at times been held by people who were both clueless and disinterested. But Tumwine is not one of these and sparks could soon be flying. If that happens we might soon see a fight for supremacy not unlike the one we have been seeing under Kayihura and Tumukunde.
The other big move is Museveni's replacement of Kayihura with his former deputy, Okoth Ochola.
Unlike Kayihura, who is a decorated war army general and member of Museveni's trusted inner circle who was parachuted into the police force in 2005, Okoth-Ochola is a career cop with 30 years on the force and rising through the ranks since joining as a non-commissioned officer in 1988.
Although he joined when Museveni was president, Ochola is seen either as a grey entity or as part of the old-style police force that Museveni is not very fond of. That Ochola has survived and thrived in an ethnically riven force where his peers have been weeded out, speaks more about his character and survival instinct than his policing proficiency.
A laid back, soft-spoken man with a slow gait and sharp mind, Ochola is difficult to fathom as he keeps himself and his views to himself, wears an incomplete smile on a taciturn face, and is press shy. In other words, he is the total opposite of the man he succeeds. But is he likely to bring a different style to the force. Most likely; he will not.
Part of the reason is that at 60 years of age, although he is two years younger than Kayihura, he looks and acts older. It is unlikely that Ochola will be gallivanting across the country from one crime scene to the next, crafting political strategy in mid-night meetings, or plotting to increase the police's operational budget to stock up on teargas and anti-riot gear.
Changes in police under him are likely to evolve rather than be reforms. Another reason for an anticipated slower pace is that Ochola is smart enough to recognise that his appointment is a stop-gap measure.
How Museveni manages security
At best Museveni's appointment of Ochola represents an appeasement of the old guard in police who felt sidelined by Kayihura. But Museveni clearly has every intention of keeping the police as an appendage of the military. And the man to ensure that is Ochola's new deputy; Brig. Sabiiti Magyenyi, the former Commander Military Police.
Magyenyi is likely to emerge as the true commander of the force that Kayihura had built over the last 12 years.
He will control the Shs500 billion plus budget, and expand its role in intelligence gathering, crime fighting, counter terrorism, and political counter mobilisation against the opposition. These are the things that gave Kayihura clout.
But they are also what attracted enemies for Kayihura to the extent that even Museveni became wary of him. According to informed sources, Kayihura was removed partly because Museveni perceived him as a threat to his power; especially once intelligence reports started emerging that he was getting support from Rwanda (because of ethnic links and close relationship with Rwandan President Paul Kagame). Although sounding farfetched to the politically naïve, Museveni is not one to dismiss such intelligence.He is known to eliminate threats, assumed or real.
So first, it is said, Museveni had appointed Tumukunde as security minister although he was aware that it would create friction with Kayihura. Museveni's gambit was to signal to Kayihura that he is being watched.
After appointing Tumukunde, Museveni appointed Kandiho to head CMI, which returned the military intelligence outfit back to the apex of Uganda's security system. Working with Tumukunde, Kaka Bagyenda also revived ISO to counter police.
Over the years, this has been Museveni's way of managing the security agencies. When Jim Muhwezi was the Director General ISO, ISO was at the apex of the security system. When Muhwezi was kicked out, Museveni put the late Brig. Noble Mayombo then heading CMI at the top of the security system. With CMI facing intense criticism over torture and becoming a major cost on his government's reputation, Museveni turned his eyes onto police, ejected Gen. Katumba Wamala and appointed Kayihura Police Chief. Gen. Kayihura built police and put it at the top. With Kayihura becoming a threat, Museveni has put CMI on top again.
Meanwhile pressure had been mounting from President Museveni's inner circle, civil intelligence and military intelligence to kick out Kayihura. But not known to act under any one's pressure, the president kept his police chief on the job.
Kayihura's troubles
Kayihura's fall has been loud because Museveni had, over the years, severally praised him as a great cadre. The President in May last year renewed Kayihura's contract clearing him to add on his 12 years as police chief, the longest in Uganda's history.
While Museveni often quarreled with Tumukunde in cabinet meetings, the closest he got to express concerns about Kayihura was last year when he complained that police had been infiltrated by bad elements.
Still, after that, in October last year, the president attended the thanksgiving for Kayihura's father, the late John Kale Kalekyezi, who he described as a great Pan Africanist at Isaaza Grounds in Kisoro Municipality. President Museveni then thanked Gen. Kayihura for keeping his father's legacy alive and celebrating him.
Kayihura appeared to have earned his power by turning the police into a political arm of the ruling National Resistance Movement (NRM).
In using the police to fortify Museveni in power, Kayihura has been able to successfully divert a significant amount of budgetary resources to the force, thereby turning it from a sidelined and weak organisation into the most visible institution in Uganda's power politics. When Kayihura joined police in 2005, police budget was under Shs70 billion; it has since skyrocketed to about Shs500 billion.
Kayihura's success appeared to walk hand in hand with his doom.
Last year, the situation appeared to get out of hand. When Assistant Inspector General of Police (AIGP) Andrew Felix Kaweesi was murdered in March, many pointed to rogue elements in police. It was the 12th high profile murder under Kayihura's watch but it was worse because it had claimed a central security figure and spread doubt and fear that a force that couldn't protect its own couldn't protect the public.
In the same year, machete wielding gangs sent shock waves across central Uganda. When police carried out a sting, some of the suspects said they were working with police. As security officials were still grappling with this crisis, a spate of women murders also engulfed Kampala suburbs.
His troubles were worsened by tensions with Rwanda other than his own actions. The rising crime wave, botched up investigations, and bust ups with ISO and the army, were a trigger not the powder keg of his troubles.
Kayihura was accused of stage-managing confessions by known criminals to implicate Tumukunde in murders, including that of Kaweesi.
But Kayihura's weakened position was exposed when CMI entered the investigations into the murder of one Francis Ekalungar, the former accountant of Case Clinic, and arrested HuzairKiwalabye, a brother of Kayihura's operative AbdallahKitata, the self-proclaimed patron of BodaBoda 2010.
The arrest of Kitatta was a major window into how far the military was willing to go to dismantle the power structure of Kayihura.
Kitata has faced military court and been remanded together with 12 others over charges of unlawful possession of arms. The arrest signaled the return of CMI to the apex of Uganda's ever-changing security infrastructure.
Kitatta's arrest came months after another round of investigations climaxed into the arrest and trial of seven police officers close to Kayihura before the General Court Martial (GCM) on Oct.27.
The seven included; Senior Superintendent of Police Nixon Agasirwe, the former commander Special Operations Unit, Senior Commissioner of Police Joel Aguma, the commandant of the police Professional Standards Unit, Assistant Superintendent of Police Magada, crime intelligence; BenonAtwebembeire, Sgt Abel Tumukunde, the Kampala Metropolitan Police flying squad commander, Faisal Katende, flying squad and AmonKwarisima.
They were supposed to be 12 but five were yet to be netted, a source intimated. Jonathan Baroza, the former Aide to Gen. Kayihura, was also targeted.
They were charged with conveying Joel Mutabazi; a former presidential guard for Rwanda President Paul Kagame and Jackson Kalemera without their consent to Rwanda.
Kayihura's foes used intelligence against him from one Ali Kabanda, a Special Police Constable who was attached to the Police Flying Squad but claims his life was under threat because of his knowledge of the arrests and extradition of Rwandese refugees.
Kabanda had revealed that at the centre of these operations were Nixon Agasirwe, one of the seven facing trial, Baroza, who was Kayihura's aide and Ismail Baguma, who officials at CMI had expressed concerns about.
Tumukundes's troubles
Tumukunde's fortunes,meanwhile, exploded when he resorted to his known penchant for braggadocio, relishing the jet-set life and fighting colleagues in public. He also churned out a stream of, especially financial fake intelligence, against others and openly criticisedgovernment.
Kayihura, it is said, angered Museveni when he directed the rank and file not to share intelligence with the military without his approval. It was reportedly seen as a direct affront to Museveni who had directed the military to take over police roles. Officially, it was described as against the spirit of the National Security Council, the highest security body that brings together security chiefs from different bodies to deal with security issues.
Matters were not helped by the recent high profile murders in hotels (Tersvouri Toomajuha Petteri, a 42-year-old Finish national , who died at Pearl of Africa Hotel on Feb.08 and Alex Sebastian, a 40-year-old Swede, who died at Sheraton Hotel on Feb.06) and of Suzan Magara who was kidnapped in the Kampala surburb of Rubaga Division on Feb.07. Magara's parents paid a ransom of about Shs700million and Museveni got personally involved but failed to save her as her body was discovered at Kitiko near Entebbe Expressway. Security inter-agency rivalry became a focal point of anger and left Museveni frustrated. It gave Museveni the perfect circumstances to fire Kayihura and Tumukunde.
Since Kayihura was already encircled, it was easy for Museveni to swing the axe without fear of jeorpadising national security although the inter-agency fights had exposed vulnerabilities in Uganda's security system and were failing to solve crime.
Kandiho, Magyenyi and their boss, Gen. Muhoozi are all astute officers and respected commanders. Working together they have cracked the women murders and have been dealing with other crimes. Kandiho is also said to have experience in counterterrorism.
But at this point, having dismantled Kayihura's network, they must build a new network to replace Kayihura's. They must reengineer the bulk of the rank and file who were recruits of Kayihura.
It will be interesting to watch how Magyenyi works with Ocholawho already knows the inner workings of police. Indeed, Brig. Magyenyi's role will be to neutralise any potential threats with in police and keep it under firm control of the military and reportedly purge it of any lingering sympathies for any perceived internal and external security threats.