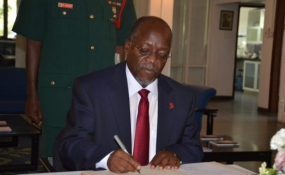 Photo: Daily News
By Gadiosa Lamtey
Dar es Salaam — President John Magufuli yesterday directed that investors seeking to establish new industries in Tanzania be offered special tax incentives.
He called upon the Minister for Industry, Trade and Investment, Mr Charles Mwijage, to discuss with his Cabinet colleague at the Finance and Planning ministry, Dr Philip Mpango, and explore the possibility of offering special tax incentives - and even granting tax exemptions - to investors who already have established industries in the country.
"It does not sound well to impose VAT (value-added tax) on a person who creates employment, and who, at the same time, pays power and water bills, local government taxes and farmers" for factory inputs, the president said.
Dr Magufuli said this in Singida Region yesterday when he was officially inaugurating a new factory owned by Mount Meru Millers Limited. The factory can process 300,000 tonnes of sunflower seeds annually.
Noting that Tanzania cannot survive, or inspire investor confidence, by charging exorbitant taxes on people who want to establish industries and creates jobs, the president specifically called for the imposition of heavy taxes on imported edible oil.
He said that there are some unscrupulous importers of edible oil who declare same as unrefined oil to avoid paying the taxes that are due on the former. Currently, crude oil imports are not taxed in Tanzania.
"It is shameful for a country like Tanzania to import 'crude edible oil!' So, I ask investors to take advantage of this opportunity and establish industries, instead of sitting on their hands and generally complaining," he said
Tanzania imports 70 per cent of the cooking oil it needs, as the annual demand for the commodity is 450,000 tonnes, while domestic production is only 120,000 tonnes a year.
Speaking at the occasion, the Mount Meru Millers Group executive director, Mr Atul Mittal, said that upon becoming operational, the factory will process 300,000 tonnes of sunflower seeds a year for starters. This is enough to produce 90,000 tonnes of cooking oil each year. In actual fact, the plant has the potential to process over 400,000 tonnes of sunflower seeds annually, which translate into 120 tonnes of cooking oil. Also, the factory is capable of producing a variety of sunflower oil brands, including Sunola and Singida Oil.
Mr Mittal revealed that Tanzania was leading in terms of good prices for sunflower oil last year, compared to other countries in the region. For instance, one litre of the oil was sold at Sh850 in Tanzania, while the price in Uganda was Sh785, followed by Zambia (Sh550 per litre) and Malawi (Sh475 per litre). In that regard, Mr Mittal called upon sunflower farmers to increase production, now that a new factory has been put up in the country that is ready, able and more than willing to buy their crop in good time and at fair prices.
Apart from producing sunflower oil, Mount Meru Millers will also process some of the inputs for animal feed, about 30 per cent of which will be sold in the domestic market, while the rest will be exported mostly to India and Kenya.