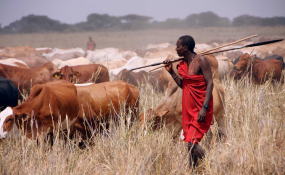 Photo: Daily News
By Peti Siyame
Sumbawanga — PASTORALISTS in Rukwa region have earned over 12.4 bn/- from sales of live animals and its products during the period of July to December 2017.
The Head of economy and production section of Rukwa regional Secretariat, Mr Ocran Chengula told the 'Daily News' over the phone that under the period previewed pastoralists and other livestock keepers have earned 12,497,089,000/- after selling their 120,706 animals including chickens.
" During that period pastoralists and other livestock keepers have sold 21,731 cows, 8,307 goats, 958 sheep, 3,439 pigs and 86,279 chickens ... ... about 16,491 cows were sold in the country while 1,424 were exported to neighbouring Zambia" he added.
Mr Chengula expounded by explaining that 1,800 tonnes of beef valued 9,181,590,000/- were produced by slaughtering 8,247 cows, 8,857 goats, 1,273 sheep and 4,353 pigs... "1,839,941.75 litres of milk valued 1,153,235,750/-, tray 44,345 of eggs valued 473,902,700/ and 8,374 pieces of animal skins valued 6,111,800/- were sold" added Mr Chengula.