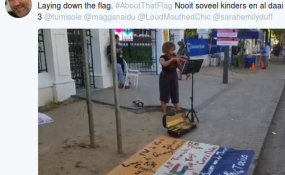 Photo: @JohanPienaar/Twitter
Activist Johan Pienaar was on Monday granted an interim protection order against Afrikaans singer Steve Hofmeyr to prevent him from harassing, disturbing and damaging his art installation, which includes the old South African flag.
The order, granted by the Stellenbosch Magistrate's Court, prevents Hofmeyr from contacting Pienaar directly or indirectly. It also prevents him from inciting violence against him or threatening Pienaar on any social platform.
This after Pienaar laid down the old Oranje, Blanje, Blou (orange, white, blue) last week with names of some of the most prominent apartheid architects and what he called enablers written on it, News24 previously reported.
While a violinist played "Die Vlaglied" (The Flag Song), Pienaar invited attendees of the US Woordfees in Stellenbosch to walk over the flag.
The names on the flag included Hendrik (F) Verwoerd, Johann Coetzee, PW Botha, FW de Klerk, JG Strydom, and ET (a reference to former Afrikaner Weerstandsbeweging leader Eugene Terre'Blanche).
Laying down the flag. #AboutThatFlag Nooit soveel kinders en al daai kak. Day 3 @tumisole @maggsnaidu @LoudMouthedChic @sarahemilyduff pic.twitter.com/029k3Ff2Ls-- Johan Pienaar (@JohanPienaar) March 7, 2018
Hofmeyr's name was in the centre of the flag.
Hofmeyr then tweeted that he would offer a reward of R1 500 to anyone who removed the flag from the sidewalk in Stellenbosch, while Freedom Front Plus leader Corné Mulder suggested that Pienaar get himself security, following his "attention-seeking stunts".
Shortly after, a man approached Pienaar and gave him a piece of paper with the words "This flag is now expropriated without compensation" on it, before grabbing the flag and running away, he said.
Subsequent tweets by Hofmeyr included: "Dankie almal. Die vlag is myne. Sal hom more gaan haal" (Thank you everyone. The flag is mine. Will go fetch it tomorrow).
In addition, he tweeted: "In Stellenbosch. Op soek na sypaadjiekuns. Wil dit donner. #AboutThatFlag #Woordfees #oranjeblanjeblou" (In Stellenbosch. Looking for pavement art. Want to bash it up. #AboutThatFlag #Woordfees #oranjeblanjeblou)
Pienaar laid charges of conspiracy to commit theft and intimidation against Hofmeyr.
"I have some public engagements shortly to talk about the flag project and/or repeat the installation. It is clear that Mr Hofmeyr's calls to have the flag stolen and assault me constitutes clear harassment as envisioned by the Protection from Harassment Act," Pienaar said in his application.
Pienaar alleged that Hofmeyr was no stranger to violent attacks against those who had different views. He added that he believed that Hofmeyr has a woeful disregard for those who also have the right to freedom of expression.
"I add this background information in fulfilment of my obligation to this court by placing all relevant facts within my knowledge before it."
Hofmeyr was notified that he should tell the court on April 25 why a final protection order should not be issued.
He has not responded to a request for comment.
Source: News24