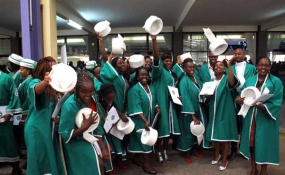 Photo: Dennis Onsongo/Daily Nation
By Galgalo Bocha
Harvard University and the Aga Khan University have both launched a joint leadership course to help African leaders address challenges facing them.
The programme involves Harvard's John F. Kennedy School of Government and the Aga Khan Graduate School of Media and Communications (GSMC).
The two universities signed a Memorandum of Understanding to jointly launch the programme last year.
The first course focuses on executive education and training for officials from government, civil society, private sector and the media.
The second course in the suite, The Voice of Leadership: Inspiration, Influence and Impact to empower leaders to speak and act with clarity vision and authenticity.
The pioneering suite of courses designed to equip executives with skills, mindset and communication expertise aimed at transforming leadership in Africa was launched on Sunday at the Aga Khan Graduate School of Media and Communications campus in Nairobi.
GSMC Associate Dean Prof Rhonda Breit said the programme under the banner, 'Transforming Leadership for 21st Century Africa will help executives exercise leadership "amid uncertainty with skill, purpose and effectiveness."