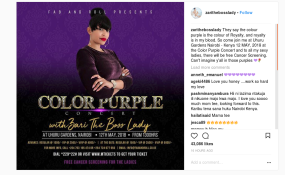 Photo: Zari/Instagram
By Mwende Kasujja and Sylvania Ambani
Ugandan-born socialite Zari Hassan was roasted online after offering Nairobi ladies "free cancer" during her upcoming trip in May.
Zari had posted on Instagram an announcement of 'Colour Purple' concert that will be held at Uhuru Gardens on Lang'ata Road.
The concert will have a "free cancer", she said .
In fairness, she meant to say a 'free cancer screening' session.
The blunder costed her big time as Nairobi women called her names for offering 'free cancer'.
The socialite quickly edited her Insta post but not before screenshots had been taken and shared widely.
On Facebook, a women's group dissected the screenshot by calling out Zari.
One member wrote; "Zari is such a big brand to make silly mistakes! Hata kama English is not her first language. Damn😣😣"
Another commented; "Yaani nilipee 1000 nipewe cancer then I spend millions treating it?¿ I swear witchcraft is REAL"
A member mocked her; "Zari my dear, rusungu si mdomo chako."
Another commented; "Ushindwe kwenyu Uganda kwa white party utaweza Kenya in purple and worst thing utupe cancer."
One stated; "Walimu wa English! So you want to crucify her because of a simple grammatical error? Y'all should take this positively."
Another added; "I wonder why do people still hate on Zari aliwaondokea kwa Diamond... Zari amejinyamazisha anafanya vitu zake tu but haters are still on her neck na majority I know in jobless kazi ni Facebook tu kutukanana huku mscheeeeew."
Here is the corrected Insta post after the initial goof.
They say the colour purple is the colour of Royalty, and royalty is in my blood. So come join me at Uhuru Gardens Nairobi - Kenya 12 MAY, 2018 at the Color Purple Concert and to all my sexy ladies, there will be free Cancer Screening. Can't imagine y'all in those purples 💜🌹
A post shared by Zari (@zarithebosslady) on Mar 12, 2018 at 10:20am PDT
Zari recently broke up with Tanzanian artist Diamond Platinumz who arrived in Kenya on Monday for the launch of his "A Boy from Tandale" album.