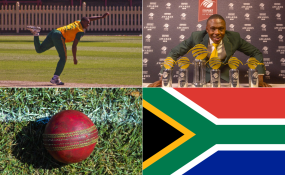 Photo: allafrica.com
Australian captain Steve Smith says he wants Proteas speedster Kagiso Rabada to play in the remainder of the Test series.
That won't happen, though, as Rabada was on Monday suspended for two Test matches after the ICC punished him for his animated send-offs of Smith and opener David Warner in the second Test in Port Elizabeth.
Given his prior disciplinary issues, Rabada has now accumulated eight demerit points in a 24-month period and his punishment is to watch from the sidelines as the Proteas look to secure a famous series win.
Having taken staggering match figures of 11/150 in PE, Rabada's absence in Cape Town and Johannesburg will certainly work in Australia's favour.
But, when speaking to media after his side had lost by six wickets on Monday, Smith said he would rather have Rabada in the Proteas line-up.
"He's a world class bowler and you always want to come up against the best, that's for sure," Smith said.
"He's right up there. He's unbelievable the way he's been bowling.
"If he's there, he's there ... if he's not, he's not. It's our job to try and play some better cricket."
Smith added that he had not "baited" Rabada into bumping shoulders with him, but he did question why the 22-year-old was so fired up.
"I think it's something that the ICC has been trying to crack down on for some time in just trying to ensure that things look sportsmanlike out on the field," Smith said of Rabada's wicket celebrations.
"It's probably the time they don't need to celebrate as much. They've just got your wicket and you're on your way, so it's a time to just chill out and be happy that it's done.
"Sometimes guys are going to go over the top and get done for it, but it's just about trying to stay in the boundaries."
Smith was particularly pleased with his own side's discipline in PE.
"I thought we behaved really well in this game. I don't think we've got any indiscretions as far as I know. We played in really good spirit, we battled hard, played good cricket and nobody over-stepped the line, which is pleasing," he said.
Smith was obviously unaware of the level 1 charge accepted by allrounder Mitchell Marsh, who had uttered a few choice words Rabada's way on Monday.
"I think that both sides have given a fair amount at times, and if you give it you've got to be willing to cop it as well. That's part of playing international sport," Smith added.
The third Test gets underway in Cape Town on March 22.
Sport24