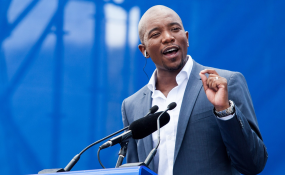 Photo: Democratic Alliance
The Democratic Alliance announced on Monday that it would support land restitution and redistribution.
"We support efforts to undo the terrible legacy of forced land dispossession, which still reverberates in our society today," DA leader Mmusi Maimane said on Monday.
His comments come after the DA faced criticism over the weekend for an SMS sent to members of the public in which it encouraged people to register to vote.
The SMS read: "ANC and EFF working together to take all private land and homes. You can only stop this if you're registered correctly to vote! Check now."
Maimane addressed the media at Constitution Hill on Monday, accompanied by DA spokesperson on rural development and land reform, Thandeka Mbabama, and her deputy, Ken Robertson.
"We envision a South Africa in which every person can own property, and that the circumstances of their birth [are] no impediment to them acquiring and accumulating wealth-creating assets.
"Any suggestion that our firm opposition to expropriation without compensation is equivalent to opposing land reform is simply nonsense."
Maimane said DA's approach was that it wanted people to be real homeowners and for their right to build assets and wealth over time, which they could hand down to their children, to be protected.
"This is the only way to break the cycle of inter-generational poverty that apartheid has left us."
Property not only land
Maimane added that, over the last two weeks, the national discourse has been dominated by the EFF's motion in Parliament for the amendment of the Constitution, to pave the way for expropriation without compensation.
"This motion was supported, in amended form, by the ANC. The EFF's model calls for the state to be the custodian of all land, effectively the abolition of private property.
"While mention of this model was excluded from the final motion, it still includes reference to a 'future land tenure regime', with no further clarity offered by either the ANC or the EFF as to what this might mean."
The Constitution also makes it clear that property does not only refer to land, Maimane said.
"The model pursued by the EFF would strip all property owners of their property - white and black South Africans alike would lose everything. Homeowners would be stripped of their homes, business owners of their businesses, innovators of their intellectual property, and more.
"Beyond amending the motion, the ANC has to date not said explicitly whether they support this model or not. And if they do not, they have not said what alternative model they will pursue in amending the Constitution.
"What is clear is that there is now sufficient support in Parliament to substantially erode private property rights in our Constitution."
'Every tool to fight amendment of Constitution' He said there are some well-meaning South Africans who are always happy to give the ANC the benefit of the doubt.
"They believe that land expropriation will be orderly and benign. We do not share this view. We do not believe there is any 'nice' way to seize property.
"We do not believe that any government should be given this power. And once the government has this power, it will be very difficult ever to take it away."
Maimane said some believed that President Cyril Ramaphosa's government would handle the matter responsibly.
But, he added that the party would not wait for the ANC to attempt to clarify how it plans for the seizures to happen.
"The Democratic Alliance stands implacably opposed to any abrogation of existing private property rights. Property rights are the bedrock of development and economic growth. Expropriation without compensation is state-sanctioned theft, which is inimical to economic growth and development.
"We regard the attempt to amend the Constitution as nothing but a populist effort to scapegoat the Constitution for the failure of the ANC, over 20 years, to reform land ownership. Every expert agrees with this view."
He said, even former president Kgalema Motlanthe's high-level panel report underscores the point that the Constitution is not an impediment to land reform. Neither is the requirement for compensation.
"We reject the hate-filled racist undertones employed by the EFF and the ANC in this debate, which seeks to divide the country according to race for narrow political ends, and which seeks to delegitimise those who disagree."
The DA said it would use every tool that was available to fight the amendment of the Constitution.
He admitted that the party met with King Goodwill Zwelithini to discuss the Ingonyama Trust and said Zwelithini agreed that he wanted people in rural areas to have title deeds.
Source: News24