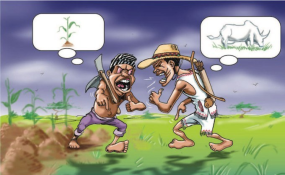 Photo: This Day
By Abdullateef Salau
The Heads of Mission of the European Union Members States in Abuja have expressed alarm over the persistent violent clashes between farmers and herdsmen, which have resulted in scores of death and destruction of properties.
The envoys, in a statement issued through European Union Commission, said the perpetrators of the violence must be brought to justice.
They also encouraged Nigerian government and other stakeholders to promote constructive dialogue among all Nigerians with the aim of ensuring peaceful co-existence.
The EU therefore assured Nigeria of its support in the fight against violence in all its forms.
The statement reads: "The EU Heads of Mission are alarmed by the escalating and disturbing killings in the conflict between herdsmen and farmers in Nigeria.
"While we welcome the visit of President Buhari to affected states, we encourage the government and all stakeholders to engage decisively in order to promote a constructive dialogue with the aim of finding viable solutions and sustainable economic policies that would permit all to live in peace, whatever their ethnicity or religion.
"As a first step, the perpetrators of violence must be brought to justice.
"The EU confirms its full support to the Nigerian government and people in their fight against violence in all its forms and expresses its condolences and sympathy to the families of those killed and injured."