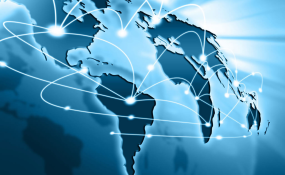 Photo: The Guardian
By Marc Nkwame
Arusha — Latest World Internet Users Statistics place Kenya on top of Africa's data billing, with the country's internet penetration of 85 per cent, the world's second highest after North America.
According to the Internet World Stats 2018 report, Kenya has 43.44 million internet users, out of the country's population of 51 million, averaging 85 per cent internet penetration.
Tanzania boasts of 23 million internet users and compared with her estimated 59 million people, putting Dar's internet penetration at 39 per cent. Uganda, with 19 million internet users out of the 44.2 million people, has 42 per cent penetration while Rwanda's 3.72 million internet users put the 12.4 million people country's penetration at 30 per cent.
Out of the six East African Community (EAC) Member States, South-Sudan and Burundi seem to be slow in logging into the internet. Juba has 2.23 million internet users, only 17 per cent of thecountry's 13 million residents. Bujumbura has only 620,000 internet users, 5.5 per cent of the country's 11.2 million people. Nigeria has the largest number of internet users in Africa.
But, despite the most populous African nation having 98.4 million users, they account for only 50 per cent of the country's 196 million people. Egypt comes second in having the highest figure of internet users at 49.2 million, accounting however for 49.5 per cent penetration into the country's 99.3 million residents.
South Africa's 30.8 million internet users give the largest African economy with 57.4 people the penetration of 53.7 per cent. Overall, there are 453.3 million internet users in Africa, putting the penetration of 1.3-billion person continent at 35.5 per cent. Globally, there are 4.1 billion internet users, 54.4 per cent of the earth's 7.6 billion inhabitants.
East Africa aims at ensuring broader access and use of ICTs as key to community development, with the 2050 EAC vision indicating a trend of falling prices and higher penetration in both mobile telephony and broadband internet.
Communications technology has spurred product innovation in EAC's financial sector, as the trend penetrates deeper into the region and greatly reduces the cost of financial transactions and percentage of unbanked citizens within the population. The telecoms revolution has been a notable feature in the region with mobile phone subscriptions expected to rise beyond 100 million by 2020.