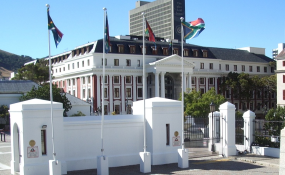 Photo: Charlie Dave/Flickr
analysis
Justice Minister Michael Masthua's team buckled in the Constitutional Court on Tuesday and made concessions to the case pushing political parties to disclose private donations. As Parliament continues to pursue legislation on the issue, the court's ruling will be crucial in describing what we should know and how. By GREG NICOLSON.
"What is the government's problem? What is the government's case?" asked Justice Azhar Cachalia while Justice Minister Michael Masutha's representative, Advocate Thabani Masuku, stumbled through his argument on Tuesday.
The minister opposed the application from My Vote Counts for the Constitutional Court to confirm an order from the Western Cape High Court. That order told Parliament to amend the law to allow the public to access information on private donations to political parties.
Under pressure from Chief Justice Mogoeng Mogoeng, Masuku made a meal of the government's arguments. In September, the high court ruled that voters need to be able to access the details of private party donations to exercise their rights effectively at the polls.
In that case, Judge Yasmin Shenaz Meer said the Promotion of Access to Information Act (Paia) was "inconsistent with the Constitution and invalid insofar as it does not allow for the recordal and...