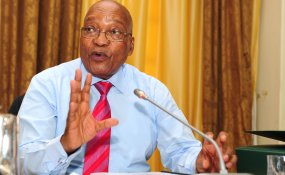 Photo: GCIS
The DA says the more than R15m of public funds that former president Jacob Zuma spent on his "legal shenanigans" should be recovered from him.
It has also asked President Cyril Ramaphosa for more information on the money owed, including if there was an obligation for the Presidency, the state or the Treasury to continue paying Zuma's legal fees.
DA leader Mmusi Maimane said the state attorney had confirmed to the party that R15 300 250 of public funds were spent on Zuma and his fight against corruption, fraud and racketeering charges.
"From the outset, Jacob Zuma's actions made it clear that he would avoid his day in court at all costs - and he would do so with the financial backing of government," Maimane said.
"Zuma abused legal process, employing every delay tactic possible to drag this matter out and to avoid his day in court. So much so, that Judge President Dunstan Mlambo deemed Zuma a 'reckless and unreasonable litigant' in a judgment handed down last year."
Maimane said it appeared that the more than R15m in legal fees were spent irregularly and unlawfully and that the party would write to Ramaphosa for answers.
"It appears that this R15.3m in legal fees was spent irregularly and unlawfully, as the case relates Jacob Zuma in his personal capacity, for crimes he allegedly committed before he was president."
'Recover the R15.3m'
In a letter to Ramaphosa on Wednesday, Maimane asked on what basis his office claimed that the payments made by the Presidency, in respect of Zuma's personal legal fees, were in line with legislation.
READ: Zuma's court expenses incurred in line with State Attorney Act - Presidency
Maimane also raised questions about Zuma using the services of private lawyer Michael Hulley, the apparent agreement to continue paying for Zuma's legal fees, and whether Zuma would be required to repay the amount if convicted.
Ramaphosa was given until March 22 to reply.
"Upon receipt of his information, we will consider approaching the High Court for a declarator, asking that the payment of these monies in respect of Zuma's personal cost be declared unlawful," Maimane said.
"Following this, we intend to seek an order to compel the Presidency to recover the R15.3m of irregular and unlawful spending for Jacob Zuma's benefit. We shall consider requesting the court to act in a supervisory role in this regard."
Maimane said he wanted to assure South Africans that the money would be retrieved and Zuma would "eventually have his day in court" to answer the charges relating to fraud, corruption, money-laundering and racketeering.
"We will not relent in holding to account a man who wreaked havoc on our nation for almost a decade."
Source: News24