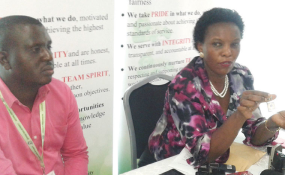 Photo: The Observer
By Emmanuel Ainebyoona & Felix Ainebyoona
KAMPALA/MBARARA — The government is set to investigate health facilities that the National Drug Authority (NDA) said it found with stocks of fake Hepatitis B vaccines.
Dr Medard Bitekyerezo, the NDA board chairman, said their inquiries will focus on source of the supplies and a laboratory analysis to establish the composition of the content of the vials.
Citizens who have received jabs to prevent Hepatitis B infection were thrown into panic on Tuesday after NDA, the statutory regulator, announced that vaccines administered at eight private health facilities were the wrong ones.
"Members of the public should stay calm and wait for NDA to investigate and test the suspected Hepatitis B Vaccines," Dr Bitekyerezo said yesterday, adding that the investigation is to last one week.
He advised individuals already vaccinated to carry out immunological tests at public health facilities authorised to handle Hepatitis B, to find out if they have antibodies to defend against the disease.
Presence of antibodies could also mean a person is already infected with the disease, Dr Bitekyerezo said.
Findings
Speaking on Monday in Mbarara Town, where some of the fake vaccines were found to have been used during a health camp, he said their preliminary findings show that fake vaccines were being branded irregularly as genuine ones to dupe unsuspecting citizens.
"We have information and we have got evidence that somebody in Mbarara was using a computer to produce some labels for this vaccine, meaning that this person should be having packaging place in Mbarara here or somewhere in Uganda in a hidden house" Dr Bitekyerezo said.
It could sterilised water or another chemical in the vial, he said.
By yesterday, health facilities adversely named by NDA continued with Hepatitis B vaccination.
Ms Desire Kirabo, the manager of Mbarara City Clinic, said NDA should first deal with the registered pharmacies in Kampala who supplied them with the suspected vaccines.
"If NDA is claiming that we are giving fake vaccines they should deal with the suppliers because we buy from recognised and licensed pharmacies in Uganda," she said.
Mbarara Community Hospital Accountant, Mr Saul Niwebesiga, said on Tuesday that they have been purchasing the vaccine from licenced pharmacies. "All along we have been buying from a recognised pharmacy until when NDA came here and told us that the vaccine was fake and I do not know whether they have confirmed that," he said.
NDA publicist Frederick Sekyana said police had taken some suspects into custody in Mbale and Mbarara, but gave no details.
Named hospitals
Devine Mercy, Mayanja Memorial Hospital, Family Doctors' Clinic Ntungamo, UMC Hospital Bukoto, Malcom Health Care and Kampala Medical Chambers.