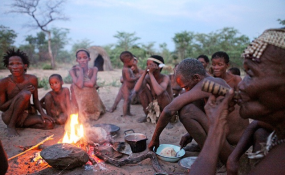 Photo: Tribes of the World/Flickr
analysis
Contemporary political discourse around the land question barely mentions Khoekhoe and San people. It is absurd to think you can understand land dispossession associated with colonial expansion in South Africa without reflecting on the near extermination of Khoisan people. By RAMABINA MAHAPA.
A key institution used by Dutch-speaking pastoralists to dispossess San people, particularly in the former Cape Colony, of their land during the 18th and 19th centuries was the commando system of voluntary and mostly part-time civilian militia.
There are two books of utmost importance on this subject. One is The Anatomy of a South African Genocide: The Extermination of the Cape San Peoples by Mohamed Adhikari. This book speaks of the way Dutch-speaking civilians organised themselves into para-militia units for the sole purpose of exterminating hunter-gatherer societies in order to dispossess them of their land, as well as to capture surviving individuals, mostly women and children, for their labour.
Adhikari suggests there are structural incompatibilities between commercial stock farming, linked to the globalising and industrialising Western economy, and the mode of production accustomed to hunter-gatherer societies. The continued interactions between commercial stock farming and hunter-gatherers produced dire conditions for hunter-gatherers because of the destruction of resources necessary for...