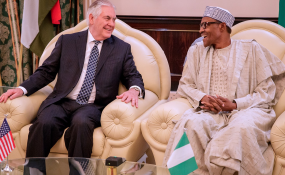 Photo: Premium Times
By Terhemba Daka
Abuja — The Federal Government has declared that the sack of the American Secretary of State, Rex Tillerson who was in Nigeria on Monday, by President Donald Trump will not in any way affect Nigeria/U.S. ties, saying that "government is continuum."
It also said the establishment of the proposed modular refineries in Niger Delta region will not make any meaningful impact on the shortage of petroleum products in the country.
Briefing State House correspondents after the Federal Executive Council (FEC) meeting at the Presidential Villa, Abuja, yesterday, the Minister of Foreign Affairs, Geoffrey Onyeama said, "Rex Tillerson sack won't affect (Nigeria) because government is a continuum as we all know.
"When he came it was the United States that was speaking and clearly we expect that with every expectation that everything he has said as regards U.S./Nigeria relations reflects the position of the United States, reflects the position of the president of the United States, so we don't see any change happening."
On the proposed modular refineries to be established in Delta and Rivers States, the Minister of State for Petroleum, Dr. Ibe Kachikwu said the modular refineries would essentially address the problems associated with illegal crude oil refining in the Niger Delta, while also saving the environment and providing more legal opportunities for the youth of the area.
"It's not meant to address the refining product gap we have in the country, we are hoping that those gaps will be covered by a mixture of the three or four refineries that government owns currently, Warri, Port Harcourt and Kaduna and of course the Dangote refinery of 600 barrels."