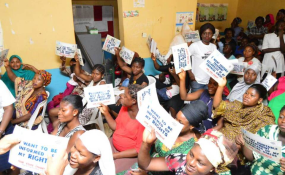 Photo: @WRAglobal/Twitter
By Alawi Masare
Lindi — Lindi residents are gathering at the Ilulu Stadium to mark the 'white ribbon day' in the region.
The white ribbon is a special campaign to promote healthy motherhood through provision of proper health services.
The event started this morning with demonstrations from Uwanja wa Fisi ground to Ilulu.
The demos which involved residents, officials from government and different NGOs were led by the police and were received by the Lindi Regional Commissioner Mr Godfrey Zambi.
Mr Zambi went through all exhibition tents which explained different activities they do including family planning, safe delivery of mothers and other health services related to women.
The White Ribbon Alliance which organised the event also campains for local government councils to set at least 10 per cent of their revenues for safe motherhood-related services.