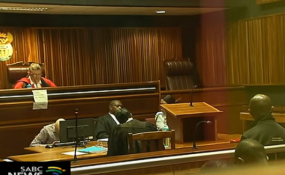 Photo: SABC Digital News/YouTube
analysis
By Bheki C. Simelane
The alleged sexual assault of two Grade 3 girls by an investigator from the SAPS Family Violence, Child Protection and Sexual Offences unit - who was preparing them to testify in court against their first attacker - is a grave violation of trust. By BHEKI SIMELANE.
The community of Orlando and many South Africans are outraged after a police forensic investigator was accused of sexually assaulting two Grade 3 pupils from the AB Xuma Primary School in Soweto. The incident is believed to have happened on Monday while the high-ranking officer, said to be a police captain, was preparing the girls to testify against a 57-year-old scholar patrol man who was charged with sexually assaulting them and 87 other girls at the school last year.
Questions have since emerged around why a sexual assault case of a female child would be investigated by a male officer, but director of clinical services at the Teddy Bear Clinic, Dr Shaheda Omar, warned that women were also capable of committing sexual assault acts.
"Females also sexually abuse, but this is a classical example of an opportunistic sexual predator using the setting where he has access to children," Omar said.
Omar said the incident...