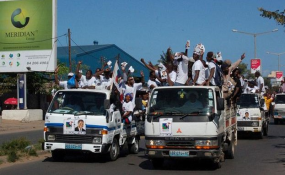 Photo: DW
Maputo — The candidate of the rebel movement Renamo, Paulo Vahanle, has won the second round of the mayoral by-election in the northern Mozambican city of Nampula, held on Wednesday.
According to observer groups, the results sheets ("editais") from 360 of the 401 polling stations, showed Vahanle taking almost 60 per cent of the vote, to just over 40 per cent for his rival, Amisse Cololo, of the ruling Frelimo Party. It is quite impossible for Cololo to close that gap from the remaining 41 polling stations.
The results from these 360 polling stations, as cited in Thursday's issue of the independent newssheet "Mediafax", were as follows:
Paulo Vahanle (Renamo) 49,928 (59.08 per cent) Amisse Cololo (Frelimo) 34,580 (40.92 per cent)
These are percentages of valid votes. In addition, there were 448 blank ballots and 651 invalid votes.
In the first round, held on 24 January, Cololo won 32,042 votes (44.51 per cent), while Vahanle took 29,029 (40.32 per cent). The rest of the votes were distributed among three other candidates. Because no candidate won over 50 per cent of the vote, a second round was necessary by law.
Two factors seem to account for Vahanle's victory. First, the Mozambique Democratic Movement (MDM), which won 10.1 of the vote in January, threw its weight behind Vahanle and campaigned for him.
Secondly, on Wednesday there was a significantly higher turnout than in January - about 32.8 per cent of the 296,590 registered voters cast ballots, compared with only 24.9 per cent on 24 January. This increase clearly benefitted Vahanle - most of those who voted this time, but not in January, opted for Vahanle.
The second round was much better organised than the first. On 24 January, no less than 43 per cent of the polling stations failed to open on time (07.00), and some opened over two and a half hours later.
But on Wednesday, 96.3 per cent of the polling stations opened on time. In the remaining stations, the election kits were found to be incomplete, and the Nampula branch of the Electoral Administration Technical Secretariat (STAE) had to supply the missing material. At several stations, it was the flasks of indelible ink, used to mark voters' fingers, as a safeguard against anyone trying to vote twice, that were missing.
The observers found that about 150 people went to the polling stations, but were unable to vote. In some cases this was because, although they had apparently valid voter cards, their names could not be found on the voter registers.
In other cases, they presented outdated documents. Only voter cards issues in 2013 or 2014 (the years of the last municipal and general elections) were valid for the by-election. But some people presented voter cards from previous years. They fell foul of a clause in the electoral legislation, always demanded by Renamo, that the entire electorate must re-register every five years. A voter card is only valid for one five year "electoral cycle" - that is, municipal elections one year, general elections the next, and any by-elections that may occur within the five years.
There were five cases in which citizens tried to vote, but found their names had already been ticked off on the registers - in other words, somebody else had stolen their identity and voted in their name.
This was an election which Renamo had expected to lose, and so, before a single vote had been cast, Renamo leader Afonso Dhlakama invented a story of massive fraud by Frelimo, in which busloads of fake voters were being ferried in from all over the country to steal the election. He even threatened to break off his negotiations with President Filipe Nyusi over this claim.
But no busloads of illicit voters showed up, and the atmosphere at the polling stations was largely peaceful and orderly.
So far the results from the observers' parallel count are unofficial. The official results should be announced within the next day or two by the Nampula district elections commission.
Vahanle will only have a few months to enjoy his victory, since nationwide municipal elections will be held on 10 October. Furthermore, he faces a municipal assembly in which Renamo does not hold a single seat.
Because Renamo boycotted the 2013 municipal elections, the majority of seats in the Nampula Assembly are held by the MDM, with whom Vahanle will have to cooperate if he hopes to achieve anything.